Camp Rock 2: The Final Jam
(2010)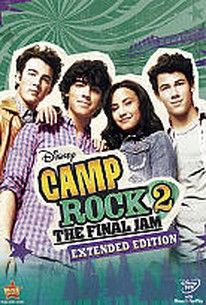 Camp Rock 2: The Final Jam Photos
Movie Info
The kids at Camp Rock enter into a musical battle with the aspiring chart-toppers at nearby Camp Star in this lively sequel to Camp Rock starring Demi Lovato and The Jonas Brothers. Summertime is here, and for Mitchie (Lovato) that means another opportunity to make music with friends, and get reacquainted with talented young rocker Shane Gray (Joe Jonas), who's just returned from a world tour with his band Connect 3. But things get complicated when Axel Turner (Daniel Kash), a former band-mate of Camp Rock founder Brown Cesario (Daniel Fathers), opens up Camp Star in a bid to lure the most talented young artists to his side of the lake. And while the kids at Camp Star have access to all the most expensive and high-tech recording equipment, the kids at Camp Rock possess the drive to succeed no matter what challenges stand in their way. When the camp owners schedule a battle of the bands to determine which camp will stay in business, Mitchie begins preparing for the show that will launch her to stardom, and save Camp Rock in the process.
Critic Reviews for Camp Rock 2: The Final Jam
Audience Reviews for Camp Rock 2: The Final Jam
Camp Rock tried to give "High School Musical" a run for its money when it first came out in our opinion. Unfortunately, the film was pretty original and entertaining. However, the sequel is trying to give "High School Musical", "You Got Served", and "Step Up" all a run for their money. The film's plot sufffers deeply from unoriginality. Despite toe-tapping tunes and okay acting, the film is spurting out cliches as it progresses. The plot concerns of the Camp Rockers competing against Camp Star in a musical competition in which only one camp will survive. We've all seen this before! The characters need some serious help too. What in the living heck was up with Axel Turner not making his hideous daughter the star of all Camp Star's acts? Why was Nick creepily stalking Axel Turner's daughter? Why does Tess turn to "the dark side"? By that I mean joining Camp Star. Mitchie was plain stupid and being all self-centered. She only cared for herself and "saving" the camp from closure. The music was not as good as the first but still okay. What really killed us is how they the characters burst in song. Remember how in the first film, the characters would plan the song in advance and then sing in front of the mic? In this one, they don't and burst into song like Broadway actors. That annoyed us! Overral, Camp Rock 2 is one of the worst sequels ever made and deserves hatred.
Bentley Lyles
Super Reviewer
½
Can you believe I was actually excited about this? I stayed in on a Friday night to catch the premiere on Disney Channel. It's not like I had anything else to do, but seriously. The sequel is a contrived camp rivalry with larger-than-life baddies. The songs are not as catchy as the original's. One of the lyrics is actually "la la la la la la la la." Demi Lovato dances weirdly. She hits everything too hard.
Alice Shen
Super Reviewer
Why I even watched this I will never know... Was I really that bored? Also: Whoever in this world think that the Jonas Brothers tare actual rock-stars are such a joke. Badly acted, badly written. The music and dacing isn't even worthy. I should've expected all this from a TV movie though...a TV Disney Channel children's movie.
Corey Wood
Super Reviewer
Camp Rock 2: The Final Jam Quotes
There are no approved quotes yet for this movie.