The Candidate
(1972)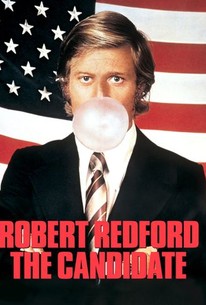 TOMATOMETER
AUDIENCE SCORE
Critic Consensus: The Candidate may not get all the details right when it comes to modern campaigning, but it captures political absurdity perfectly -- and boasts typically stellar work from Robert Redford to boot.
Movie Info
Robert Redford stars in this gritty, documentary-like tale of an idealistic, good-natured attorney whose high standards are soiled by his run for political office. Having seen all the dirt in politics as a young man -- his father (Melvyn Douglas) was once governor of California -- Redford's Bill McKay has no interest in getting into the game himself. But a political operative named Luck (Peter Boyle) taps McKay to run against the seemingly undefeatable Senator Crocker Jarmon (Don Porter), a classic gasbag. McKay reluctantly agrees, but only if his father is not involved and he is allowed to say exactly what he wants, free of political or party constraints. As his candor causes his popularity to rise, the stakes become greater for McKay and the pressure to sell out grows. Jeremy Larner's adapted screenplay won an Academy Award and Redford delivers one of his best performances in a movie that, when viewed in the age of soundbite-and-poll-driven politicians, seems more timely than ever.
Critic Reviews for The Candidate
Audience Reviews for The Candidate
½
A left-wing lawyer runs for the Senate, but the campaign forces him to make concessions in his values. Robert Redford, with his natural sense of integrity and propriety, is at his best in this film because we get to see that integrity slowly crumble. The change is subtle -- sometimes too subtle, to the point that the film's plot isn't fully realized -- but it's there. The film's plot follows McKay's campaign, and as the process of getting elected strips McKay of his principles, the political process is appropriately satirized. The best part of the film is the famous last line: "What do we do now?" which is a quote echoed by many a modern politician. Overall, while I think the film's subtlety worked against it at points, the overall message is ahead of its time.
Jim Hunter
Super Reviewer
½
A satirical and modern political chronicle.
Lucas Martins
Super Reviewer
½
A lot of fun. Reminds me of Bulworth, but not quite as good.
Ken Stachnik
Super Reviewer