Candy
(2006)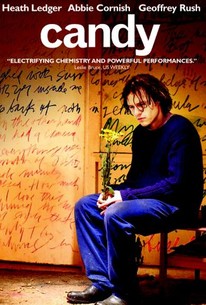 TOMATOMETER
AUDIENCE SCORE
Critic Consensus: Stars Heath Ledger and Abbie Cornish look better than they should as heroin addicts, and their characters are too absorbed and self-pitying to be totally compelling.
Movie Info
A free-spirited art student and a roguish poet find their addiction to each other taking a back seat to their taste for heroin in director Neil Armfield's intensely personal tale of recreational drug use gone bad. When Candy (Abbie Cornish) and Dan (Heath Ledger) first fell in love, they both thought they had found all they ever needed in life. Despite financial hardships, the pair sustained themselves on the vibrant life force that burned blindingly bright as it promised an invincible future. Their intoxicating romance a blissful altered state of which heroin played only a minor role in the beginning, Candy and Dan soon decide to strengthen their bond by marrying and starting a family. Their manufactured Eden gradually becomes an uncontrollable inferno, however, as Candy's parents slowly pull away due to the pain of witnessing their daughter's slow slide into oblivion, and even chemistry professor Casper (Geoffrey Rush), who was at first complicit in their experimentation, admits that Candy and Dan's blind devotion to the drug is now forever ingrained into their commitment to one and other. As the marriage deteriorates right along with Candy's increasingly fragile mental state, Dan must make the difficult decision to either rescue her or pull away in hopes that the clarity of separation will finally empower her to break free of the addiction that binds her. ~ Jason Buchanan, Rovi
News & Interviews for Candy
Audience Reviews for Candy
½
Aside from the Dark Knight, Hard Candy is one of Heath Ledger's strongest performances. This is an eccentric picture that tells an engaging story about addiction. Brilliantly acted and directed, Hard Candy is a fine picture that showcases Ledger's talents perfectly. The story is well constructed and it is a film that is hard to forget. With effective performances, this is a must see for any film lover who enjoys a powerful film that delivers an entertaining drama. The direction is very well done, and overall I really enjoyed the film despite the fact that in some areas, the film could have been better. However, Ledger's performance keeps things together and like I said, he does some terrific work here. I really thought that this was one of his best performances right up until his final role as the Joker. This is a raw, gritty in your face portrayal of addiction, and it shows us the costs of using. This is a film that is hard to get into due to its subject, but it is nonetheless a roller coaster ride into madness that you won't forget. In terms of a drama, Candy is one of those films that doesn't shy away from its subject that it displays on-screen. The cast keep you involved and it is a film well worth seeing. I thought the film was well made, but it is not a film that warrants multiple viewings, and it will stick with you for a while long after you've seen it. Candy has its imperfections, but its strengths lie within its subject matter and its raw, intense delivery of its performances from the cast.
½
17/07/2010 (TELEVISION) A pretty emotional flick. This film took me downhill with them and I couldn't stand the hopelessness. It's a terrific drama and I love these ones that are able to extract your feelings. I felt this was also educational in a way because now I'm aware of the impact that drugs can have.
EightThirty .
Super Reviewer
Candy is a poetic yet very raw and no-nonsense portrait of drug addiction, as lived by Daniel and Candace. Both are very much in love with each other and carry idealistic existences in which drugs play a very central role. As is to be expected, everything is gold-showered an sugar-coated and whatnot during the first months of their relationship: they have money, they love each other, and since they haven't tried to stop using they don't see how difficult it will be. As Candy and Daniel start settling down and spending more time with each other and atempting to build a life, their addiction starts looking like a problem that will make them humilliate themselves for money, and humilliate each other when the pain is so big that they just have to take it out on the other. The chemistry between Heath Ledger and Abbie Cornish is reason #1 so watch this film. Together they are intoxicating, epic, and yet beleivable. Individually, the performances are powerful and heatbreaking: Candy's transformtion from a sweet idealist who dabbles in drugs for fun to an angry addict whose hate towards the world surfaces when she is out of money is chilling. Heath Ledger's character might be less aggressive, but even when he is at his most subdued Ledger manages to communicate his state of mind to us. He adores Candy more than drugs, and that is a lot to say, but he's absolutely hopeless at anything else. The story itself is nothing new- the message has already been spoken both by Trainspotting and Requiem for a Dream: drugs are fun in the beginning but then awful things start to happen. But Candy brings that universal problem to a very small and intimate scale, in which drug addiction has the same effect on a loving relationship as would an bomb if it fell on their house. Candy doesn't glamorize drug use, yet it doesn't use any tricks to make it more dramatic, but it often makes use of poetry voice-overs and melancholy, hazy cinematography to create an atmosphere that is between hallucination and reality. The film succeeds at making people care, hate, worry, pity Candy and Daniel, and that is mainly because of the excellent lead performances. Any fan of Heath Ledger should watch Candy, as should anyone who wants to watch a good performance-driven film.
Candy Quotes
| | |
| --- | --- |
| Casper: | When you can stop, you don't want to. When you want to stop, you can't. |
| Candy: | That was beautiful. Let's have some more. |
| | |
| --- | --- |
| Casper: | When you can stop, you don't want to. When you want to stop, you can't. |
| Dan: | I wasn't trying to wreck Candy's life. I was trying to make mine better. |
| Candy: | I wanna try it your way this time. |
| | |
| --- | --- |
| Casper: | When you can stop, you don't want to. When you want to stop, you can't. |