Candyman: Farewell to the Flesh
(1994)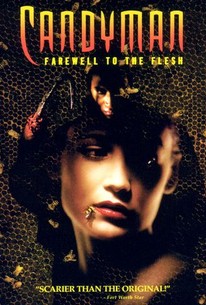 TOMATOMETER
AUDIENCE SCORE
Critic Consensus: Doubling down on gore while largely abandoning the subtext and wit that made the original worthwhile, Candyman: Farewell to the Flesh disappoints.
Candyman: Farewell to the Flesh Photos
Movie Info
In this blood-soaked horror movie, the horrific corpse of a former slaves rises again to walk the New Orleans streets. Violence ensues.
Critic Reviews for Candyman: Farewell to the Flesh
Audience Reviews for Candyman: Farewell to the Flesh
This lame sequel is incoherent with regard to the first movie and full of cheap scares followed by some stupid exploding sound. But even worst is to see that the brilliant idea of Candyman being a living rumor is replaced by a ghost-in-the-mirror curse.
Carlos Magalhães
Super Reviewer
Candyman 2- Farewell To The Flesh is a terrific follow up to Candyman. The story is set in New Orleans, and in this film we have a back story to the Candyman.The film surrounds a school teacher whos father was killed by the Candyman. The teachers brother is wrongfully accused of the murders and she seeks answers to the Candyman legend. Like I've mentioned, Farewell To The Flesh adds a back story and goes in depth on why the Candyman kills. We find out he was a slave in love with a white woman, and the woman bore him a child, the father of the woman was infuriated, and formed a lynch mob. They cut off his hand, and spread honey all over him, and he died of numerous bee stings. This sequel is pretty impressive and is almost as good as the original. But of course you can't beat the original film. Tony Todd gives a phenomenal performance as Candyman. Farewell To The Flesh is one creepy and entertaining sequel. Clive Barker produces this terrifying sequel, and the scares are top notch. Farewell To The Flesh is a terrific, underrated horror film that every Horror fan should check out. I really don't understand why this sequel has gotten such a bad rep. But in most case, ignore the negative critiques of this film, I am a diehard Horror fan and I thoroughly enjoyed this film. If you loved the first film, and you needed answers to the questions that you had, then this film might answer quite a few. A well made, and terrifying sequel.
½
ha tony Todd is such a has-been now. i saw an interview of hin talking about working on the Crow and he was talking about how mysterious his character is and breaking down his personality and everything, its like dude, youre 1 line in the movie was "they call him the avenger". man thats dynamic! how did Tony Todd not get an Oscar for the Crow!? cmon people
Coxxie Mild Sauce
Super Reviewer
Candyman: Farewell to the Flesh Quotes
There are no approved quotes yet for this movie.