Cannibal Ferox
(1981)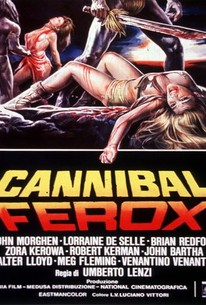 Movie Info
The Italian title of Make Them Die Slowly was Cannibal Ferox. Either way, the point is made. An altruistic team of anthropologists heads to the jungles of South America to study cannibal life. They discover that the cannibals have been enslaved by drug lords and put to work harvesting various controlled substances. Ultimately, the natives revolt against their captors. They go on an omniverous rampage, sparing no one-not even those likable scientists. This is what is known as a "splatter" film, and not without very good reason.
Critic Reviews for Cannibal Ferox
Audience Reviews for Cannibal Ferox
Cannibal Ferox is yet another, sleazy and extremely gory cannibal film. The film is excessively gory, violent and should appeal to gore fans and grind house film fans. This film is meant to shock and disgust and it does that in spades. As far as cannibal films are concerned, this film doesn't this film doesn't offer anything new or exciting. The film just plays out for gross out shocks and that's about it. I've gotten used to this type of cinema, and I really wanted to enjoy this. However Cannibal Ferox just doesn't deliver the thrills that so many other exploitation classics had done so well. Umberto Lenzi basically does what Ruggero Deodato did with Cannibal Holocaust, which was a far superior film. Although entertaining, I just felt that Cannibal Ferox didn't do anything memorable, and it was basically the same old formula at work. This film will surely appeal to fans of the genre, but is definitely not a film for the faint of heart and a lot of it is hard to take. After this film, there haven't been many cannibal films that have tried doing to something refreshing. Everything has been done before, and though high in violence content, this film doesn't horrify the Cannibal Holocaust did. A good film, but it doesn't have a hint of originality, and it's clear that the cannibal genre quickly lost its shock value, as this film like the ones that came bore it relied on the same old things that have made this genre of film notorious. For what it is, it should appeal to exploitation film fans, and despite the fact that it uses the same gross out tricks, there's a good cult classic here.
½
Still one of the funniest movies of all time, assuming you're not shocked by cheap gore. Never mind the "20 scenes of extreme brutality" mentioned in the introductory "warning" (ROLL UP! ROLL UP!), there are at least 30 scenes of extreme hilarity.... If you're looking for a good cannibal flick, "Cannibal Holocaust" is the one - still pretty dumb, but good. "Ferox", on the other hand, is the one to choose if you want a good bad-taste laugh. There are way too many hilarious moments to list, but I love the central premise that Lorraine de Selle is going into the jungle to prove that cannibalism DOESN'T exist, and NEVER HAS. Right - I just walked home from the pub and didn't get into a fight, that proves that no one has ever got in a fight on the way home from the pub. And no one who's seen this film will ever forget John "Giovanni Radice" Morghen's acting as he wails the immortal line, "then...THEN THEY ATE HIS GENITALS!!!" The commentary track on the DVD is fantastic - Lenzi is a hilariously arrogant idiot, while Morghen's camp, bitchy comments had me in hysterics. But don't believe this nonsense about how "Ferox" is "sickening" for showing a snake crushing something to death, or South American tribes killing a turtle. Have you never watched a documentary about snakes on the BBC or the Discovery Channel? Guess what - they show them crushing things too! And if you don't believe that nature documentary crews actually feed "innocent" animals to predators just to get good footage, you're very naive. As for the turtle -- these tribal guys live IN THE JUNGLE, ok? "But you don't have to show them actually cutting the head off a live turtle!" Well first of all, the fact that it's a "live" turtle is neither here nor there - if it was a dead one, it would still have been killed, duh. And secondly, what? We can eat our turtle soup, but we don't want to watch it being made? Grow up.
Cassandra Maples
Super Reviewer
My 3rd favorite movie for some unholy reason. An Italian shocker that's much less better then cannibal holocaust movie. To me that was just amazing this is still awseome though. Simple story. A bunch of friends go into the jungle to disprove that cannibalism was never real and "Man Eat Man" was just bull shit all along. Then they run into Mike Logan who has enslaved a native tribe and plans to make them dig for emeralds and grow cocaine but only to have the younger natives come home from fishing and find the students and Mikes gang. They enslave both even the ones who didn't do anything and plan to "Make Them Die Slowly" They Cut and torture them to the limits of pain. I think the funky score was just cool that real 1970s music playing at the start when he walks down the street of NYC. And then flicks to the jungle were this heavily scary yet exotic at the same time starts playing. I think Mike Logan is the best character ever in any film all he does is sniff cocaine and he quotes "Ar this is the shit doesn't give you brain damage doesn't slow you down just makes you feel alive". And he is a man on the run because of the mafia and him owing a major debt of 100,000 dollars. That's the sub plot in this movie Mike and a detective looking for him and that links all the way to the end. Cannibal exploitation as people put it always start of in big cities because they want the viewer to see the differences once they enter the jungle to see man eats man in a world with no rules. Still the intro to this movie is the best ever. The acting is awesome I don't know why everyone says it's bad it's mad, they really know how to act when they start to die, Mike again is like that but he killed a native girl and the exasperations on his face made it seem like he had no guilty condenses. I come to a close but last but not least Umberto Lenzi's direction is just mad he really new how to make an awesome exploitation film.
Ariuza koraw
Super Reviewer
Cannibal Ferox Quotes
There are no approved quotes yet for this movie.