Can't Buy Me Love
(1987)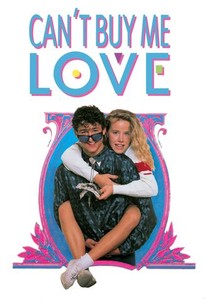 Movie Info
Ronald Miller is tired of being a nerd and makes a deal with one of the most popular girls in school to help him break into the "cool" clique. He offers her $1,000 to pretend to be his girlfriend for a month. It succeeds, but he soon learns that the price of popularity may be higher than he expected.
News & Interviews for Can't Buy Me Love
Critic Reviews for Can't Buy Me Love
Audience Reviews for Can't Buy Me Love
This movie has always been a favourite of mine. I realise it's not technically a *great* movie, but it is so 80's and has a great message about being true to yourself. It also shows the triviality of being popular in high school. Amanda Peterson and Patrick Dempsey are perfectly cast. Amanda still looks beautiful in her 80's get up, even by today's standards. There's also a very young Seth Green as the annoying little brother. I remember this was one of the very first movies I ever rented, on VHS, back in the day. We weren't well off growing up, so I was 14 before we ever got a VHS recorder. Renting a movie was such a treat and I remember being so excited to see this. (Okay, sad childhood. Lol). I guess that also adds to my affection for this movie, but I think it really is a decent teen movie. Anyone who likes a good teen or 80's movie should enjoy it.
Nicki Marie
Super Reviewer
½
Silly, but that bring an old nostalgic feeling.
Lucas Martins
Super Reviewer
African Anteater Ritual...LOL!!!!!!!!!!!!!!!!!!!!!!! This is a classic 80s comedy, and Patrick Dempsey was so cute in this and Amanda Peterson was adorable as well !!! :) Just great! An 80s classic! :) Love it! (:
Cassie Hill
Super Reviewer
Can't Buy Me Love Quotes
There are no approved quotes yet for this movie.