Can't Hardly Wait
(1998)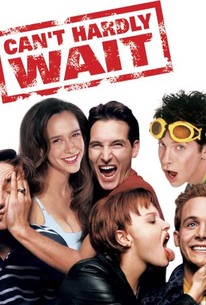 TOMATOMETER
AUDIENCE SCORE
Critic Consensus: Occasionally clever and moderately intelligent, Can't Hardly Wait also contains too many cheap laughs, recycled plotting, and flat characters.
Movie Info
First-time writers-directors Harry Elfont and Deborah Kaplan make a summer movie filled with the angst of graduation.
Critic Reviews for Can't Hardly Wait
Audience Reviews for Can't Hardly Wait
½
Decent Teen comedy, but nothing ever great, Can't Hardly Wait is one of those films that could have been better, but still has enough charm to really make it a fun film to watch. The film is quite forgettable, but manages to be fun for the time you're watching it. However it does not stand out among other Teen comedies. Can't Hardly Wait is mindless fun, but lacks anything to really make it memorable. For what it is, it works, but is far from films like Ferris Bueller's Day Off. The film could have been much better and though is fun entertainment, it never becomes anything but mindless and sometimes dull entertainment. I think this film could have been reworked significantly to make it a much better film, and it's a shame that the film is never anything truly good or memorable. The film is simply a decent viewing. The film has some good gags, but most of the time, they fall flat and don't go nowhere. If the script would have been more developed and some parts would have been recast, then maybe this film would have been better. As a whole, the film offered some laughs, but I just felt that the story lacked too much, and really didn't offer anything new to the genre. Despite this fact, this is a fun, mindless film that has its moments despite the fact that it's a decent teen comedy. I didn't hate the film; I just feel it could have been much better. If you're looking a mindless entertaining ride, Can't Hardly Wait is worth seeing, just don't expect anything great with this film. The film does provide good laughs even if it's not a classic by any means.
½
Let's face it: though we all grew up with this genre, and love the gems such as Dazed and Confused and 10 Things I Hate About You, there are films trying way too hard. One of these nineties underachievers was Can't Hardly Wait, a title that already exacts a feeling of bland indifference, which is what you feel when you watch it. There are some pretty funny moments, but they're most on account of Seth Green, because he's so pathetically human, and Charlie Korsmo: If his face looks familiar, it's because he played Robin Williams' son in Hook, and strangely puberty has not lent a helping hand. He's the most nerdy, drunken, kooky figure during this intensely raging high school graduation party, and the most enjoyable character of the entire film. Threading through the shifting comedy are the subplots of an unrequited love between nobody Preston (barely showing up onscreen throughout this film) who has, quite literally, no discernible character traits, and a popular girl. We also get an eyeful of a youthful Jennifer Love Hewitt, a pre-Twilight Peter Facinelli, and a long list of cameos, including Selma Blair, Jason Segel, and Melissa Joan Hart as a peppy girl obsessed with everyone signing her yearbook. It didn't make a lot of headway, and was in no way original, but I did really enjoy the side story of Green and Ambrose's characters and their past, though under scrutiny it doesn't make much sense or matter.
Spencer S.
Super Reviewer
I've seen much better teen films, any 80s teen film for example. This movie has a bunch of bad actors, and it's not funny. I didn't care for it.
Can't Hardly Wait Quotes
| | |
| --- | --- |
| William: | Hey! I know this song. The guy I tutored in math used to make me listen to it. |
| | |
| --- | --- |
| Denise: | Do you know what your problem is? It's like you're afraid to move forward. Now why do you wanna go to this party tonight and look back? Don't look back. You should never look back. |