Capitães de Abril (Captains of April)
(2000)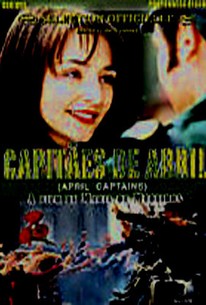 AUDIENCE SCORE
Critic Consensus: No consensus yet.
Movie Info
Renowned actress Maria de Medeiros directs this sweeping historical drama set in Portugal about the heady days leading up to April 25, 1974, when that country was finally freed from 40 years of Fascist rule. The film opens with a series of grisly black and white photographs of Portuguese war atrocities committed against its colonies -- Angola, Mozambique, and Guinea-Bissau. Antonia (de Medeiros) is a teacher who begs her minister-brother to release a couple of her students from the clutches of the secret police. As a result, she herself gets captured, interrogated, and tortured. At the same time, a young couple bid a tearful adieu at the train station just as the man, Capt. Maia (Stefano Accorsi) is drafted to fight in the colonies. Just before the youth gets shipped off to Africa, he manages to persuade the soldiers of a remote army outpost to rebel. Along with his buddies Lobao (Fele Martinez) and Antonia's ex-husband Manuel (Frederic Pierrot), Maia manages to storm a radio station and ultimately besiege the national guard barracks, which houses the president and military advisors. This film was screened at the 2000 Cannes Film Festival. ~ Jonathan Crow, Rovi
Critic Reviews for Capitães de Abril (Captains of April)
There are no critic reviews yet for Capitães de Abril (Captains of April). Keep checking Rotten Tomatoes for updates!
Audience Reviews for Capitães de Abril (Captains of April)
"Capitaes de Abril" is an evocative, yet dramatically uneven, reconstruction of the Carnation Revolution which ended decades of dictatorship in Portugal in 1974. Sadly, its soap opera elements take center stage in its attempt at a more personal story, instead of allowing the events to be at least partially told from the onlookers' perspectives. In contast, there are a couple of great shots which push the movie more in a seriocomic direction. "Capitaes de Abril" starts on April 24, 1974 with a tearful goodbye at a train station in Lisbon, as a soldier's girlfriend begs him to take the train with her to Paris instead of reporting for duty, due to the fact that he might be sent to Angola at any time. This sets the stage for everything that follows in the movie. The Armed Forces Movement, led by Captain Maia(Stefano Accorsi) and other junior officers, sets a coup in motion in order to give the people self-determination in who leads them which is more than the lip service that the colonial officers pay their subjects. Unlike their superiors, these are the officers who do the actual fighting. They are not afraid of dying, they just want the killing to stop, long after it should have. In the process, they trust the citizens greeting them in the streets to make the right call, as they gain their voices.(Hopefully, the paucity of films from Portugal that I have seen is not a sign for pessimism...) In retrospect, it could have turned out much worse than it did(and there is a scene right at the end that displays how frightening), as one commentator references the tragic events in Chile from the year before. That's not discounting the East Timor massacres which are definitely the blame of Suharto and Kissinger.
Capitães de Abril (Captains of April) Quotes
There are no approved quotes yet for this movie.