Captain America
(1990)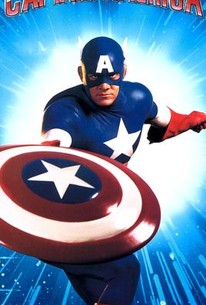 Movie Info
Transformed into a superhero during a secret World War II military experiment, Captain America (Matt Salinger) awakens from suspended animation forty years later to face his old enemy, the Nazi warrior Red Skull (Scott Paulin). This low-budget adaptation of the Marvel comic book series received very little attention upon its delayed release.
Critic Reviews for Captain America
Audience Reviews for Captain America
½
In terms of low budget cult films, this film is entertaining, but obviously leaves a lot to be desired. This film is not as awful as what everyone has said, and I quite enjoyed the sheer ridiculousness of it all. Reading on the fact that the film had tremendous issues in terms of Marvel's lack of interest and budgetary concerns, I think the filmmakers were able to pull off something quite amusing for midnight movie fans. The film is of course cheesy and over the top, but if you love low budget cult hits, then this one is for you. Of course the Chris Evans Captain America film is far superior, but this one is still entertaining for what it is. Things could have been done better, but considering with what the filmmakers worked with, they managed to pull a decent low budget affair that is a bit underrated. This is not a film for film lovers looking for something great, entertaining and mind blowing to watch. This version is more for cult film fans. The film tends to be a bit boring in some areas and the story itself could have been thought out more, but for what it is, this version of Captain America is a cheesy, tongue in cheek good time if you're in the mood for something like this. The tone of the film is silly and overall it is a decent film, but is nowhere near as good as it good have been, but that shouldn't distract film lovers who enjoy cheaply made movies such as this. Considering with what they had to work with, Captain America is a worthwhile and amusing low budget film worth seeing if you enjoy this genre.
I haven't seen this since I was about 10, so I can't give it a fair review. I remember my dad and I being very fond of it, and I remember that it was kind of cheap. Other than that, nothing, so I'll give it 3 stars for now... simply for nostalgic purposes.
Tim Salmons
Super Reviewer
Back in Marvel's early 90's days. This God awful, pathetic, cheap, and cheesy film plagued the world. It's horrible. Not just the cheap costumes or poor make-up, which goes so far as to give Captain America plastic ears to stop chafing. Captain America is the worst hero of all time. His greatest technique is pretending to be sick so that people get out of their cars. Very confusing, especially when the Red Skull is revealed to be Italian for some reason. It's also porly shot, with one segment lit entirely with blue lights, like some dodgy porno. The shield throwing soon gets old, and even it's camp charm couldn't keep my attention. I'd accept this from the 60's, but after the release of Burton's Batman, comic films should have known better. If this wasn't bad enough, some terrible song numbers are used to cause you to vomit.
Luke Baldock
Super Reviewer