Captain America: Civil War
(2016)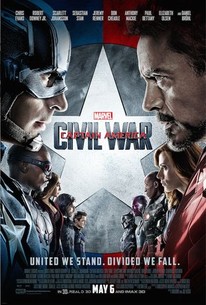 TOMATOMETER
AUDIENCE SCORE
Critic Consensus: Captain America: Civil War begins the next wave of Marvel movies with an action-packed superhero blockbuster boasting a decidedly non-cartoonish plot and the courage to explore thought-provoking themes.
Captain America: Civil War Videos
Captain America: Civil War Photos
Movie Info
Marvel's "Captain America: Civil War" finds Steve Rogers leading the newly formed team of Avengers in their continued efforts to safeguard humanity. But after another incident involving the Avengers results in collateral damage, political pressure mounts to install a system of accountability, headed by a governing body to oversee and direct the team. The new status quo fractures the Avengers, resulting in two camps-one led by Steve Rogers and his desire for the Avengers to remain free to defend humanity without government interference, and the other following Tony Stark's surprising decision to support government oversight and accountability.
Critic Reviews for Captain America: Civil War
Audience Reviews for Captain America: Civil War
Too clever. Too pretty. Too intense (at times). Too much of everything to merit 5 stars.
Christian C
Super Reviewer
Nerdgasmmmmmmmmm! And Marisa Tomei on the sidelines!!!
Kevin M. Williams
Super Reviewer
½
As the comic book juggernaut (pun not intended) continues to grow, there are going to be numerous comparisons between movies as they come out and how much better this film was over that one. A film should be allowed to stand on its own (even though I am going to be writing a special comparison between this film and the clash film from the "other" publisher). After the mediocrity that was Age of Ultron, Captain America: Civil War has the ability to continue the greatness of The Winter Solider. It doesn't have to stand on the remains of the film before it, even though Civil War plays more like an Avengers sequel, this is Captain America's story. As the film begins the world is angry after the massive collateral damage that's occurred in the battles of the Avengers. Tony Stark (Robert Downey, Jr.), faced with the real life cost of their wars, spearheads the idea of the Avengers to be monitored and controlled by the government. Of course this splits the Avengers into two camps, which is going to happen when such a revolutionary idea is placed upon a group of people. This is coupled to the fact that Captain America (Chris Evans) has the added stress of finding and helping his friend Bucky Barnes (Sebastian Stan) a.k.a. The Winter Soldier. As the story progresses we learn that there is a puppet master pulling the strings on the situation, continuously driving a wedge between the already fractured Avengers. Civil War is what a great movie should be. The film takes the audience for a ride, literally and emotionally. We travel the world as this characters, many of whom we grew up with since we were children, build for their cause. It's these same characters that cause us as an audience to finally choose a side in the ultimate confrontation that builds throughout the film. It's an experience that sucks you in and involves you in the action that's happening up on the screen. A hallmark of any good film. In a world flooded with comic book films this film will be one that stands out. This film has everything in place and gels in every way and is currently the one stand out in a summer movie season that seems to be more about malaise than masterpieces. Obviously there will be more films and Civil War makes me want to see them. The film made me want to go back and check out what I missed (Ant-Man- review coming soon). A stunning film in a bloated market.
Chris Garman
Super Reviewer
Captain America: Civil War Quotes
| | |
| --- | --- |
| Tony Stark/Iron Man: | Your judgement is askew. |
| | |
| --- | --- |
| Baron Zemo: | Mission Report: December 16th, 1991 |
| Baron Zemo: | Mission Report: December 16th, 1991. |
| | |
| --- | --- |
| Peter Parker/Spider-Man: | That thing does not obey the laws of physics at all |
| Peter Parker/Spider-Man: | That thing does not obey the laws of physics at all. |
| Steve Rogers/Captain America: | Look kid. There's a lot going on here that you don't understand. |
| Peter Parker/Spider-Man: | Stark said you'd say that. |
| | |
| --- | --- |
| Steve Rogers/Captain America: | This isn't going to change what happened. |