Captain America: The First Avenger
(2011)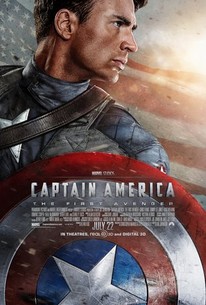 TOMATOMETER
AUDIENCE SCORE
Critic Consensus: With plenty of pulpy action, a pleasantly retro vibe, and a handful of fine performances, Captain America is solidly old-fashioned blockbuster entertainment.
Captain America: The First Avenger Photos
Movie Info
Captain America: The First Avenger will focus on the early days of the Marvel Universe when Steve Rogers (Chris Evans) volunteers to participate in an experimental program that turns him into the Super Soldier known as Captain America. As Captain America, Rogers joins forces with Bucky Barnes (Sebastian Stan) and Peggy Carter (Hayley Atwell) to wage war on the evil HYDRA organization, led by the villainous Red Skull (Hugo Weaving.) -- (C) Paramount
News & Interviews for Captain America: The First Avenger
Critic Reviews for Captain America: The First Avenger
Audience Reviews for Captain America: The First Avenger
I'm someone who, I think like everyone else when hearing about this, thought that there would never be a good incarnation of Captain America, especially since the colossal failure of a film in the 90s. Boy was I and the rest of the world fooled when this came out. I think the main reason that many people were really skeptical about the film was probably due to how a superhero film probably wouldn't do as well as it could or wouldn't be as serious as it could be since it takes place in the 40s during WWII and sine Captain america, was more of a piece for its time when it was made, so people felt that the Nazi shtick would probably get old after a while, especially since it had been done in so many films and video games prior. Also Chris Evans also might've been a major reason people were worried about the films, especially since he played another Marvel superhero prior and that didn't go over that well *CoughHumanTorchCough.* But thankfully Evans does a fantastic job as the Captain and all the other actors do great jobs too and don't make any of the characters too stupid or cheesy unlike how other 40s era films made in the 90s, 2000s and on have been (Red Tails anyone?) Hugo Weaving being my favorite of all the characters, I mean you already are golden with a combination like that already. incredibly good villain actor and actor in general, and one of my favorite Superhero villains BAM (Plus that makeup is amazing). And while the films plot may not be as good as some other superhero films, it still is an enjoyable movie with that set aside and is pretty faithful to the comics as is. If you like action movies that don't prefer the typical aliens, robots, explosions bang bang movies made nowadays, you'd probably like this movie.
Michael Edwards
Super Reviewer
½
Another forgettable prequel to The Avengers that doesn't seem to be something of its own, with a plot that is mostly dull, action scenes that are unimpressive for a superhero movie, and a poorly developed villain with uninspired plans of destroying the world.
Carlos Magalhães
Super Reviewer
An exact application of the Marvel Superhero Origin Story Template. The lack of interesting backstory or a truly "super" power makes for a boring outing from the usually reliable stable. Hugo Weaving was great in a mask again, though.
Daniel Perry
Super Reviewer
Captain America: The First Avenger Quotes
| | |
| --- | --- |
| Red Skull: | You could have the power of the gods! Yet you wear a flag on your chest and think you fight a battle of nations! I have seen the future, Captain! There are no flags! |
| Captain America/Steve Rogers: | Not my future! |
| | |
| --- | --- |
| Gabe Jones: | Wait. You know what you're doing? |
| Steve Rogers/Captain America: | Yeah. I've knocked out Adolf Hitler over 200 times. |
| | |
| --- | --- |
| Bucky Barnes: | Remember when I made you ride the Cyclone at Coney Island? |
| Steve Rogers/Captain America: | Yeah, and I threw up? |
| Bucky Barnes: | This isn't payback is it? |
| Steve Rogers/Captain America: | Now why would I do that? |
| | |
| --- | --- |
| Captain America/Steve Rogers: | Keep it steady! |