Captain America: The Winter Soldier
(2014)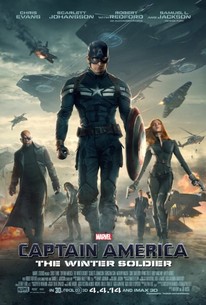 TOMATOMETER
AUDIENCE SCORE
Critic Consensus: Suspenseful and politically astute, Captain America: The Winter Soldier is a superior entry in the Avengers canon and is sure to thrill Marvel diehards.
Captain America: The Winter Soldier Videos
Captain America: The Winter Soldier Photos
Movie Info
After being deemed unfit for military service, Steve Rogers volunteers for a top secret research project that turns him into Captain America, a superhero dedicated to defending America's ideals.
Critic Reviews for Captain America: The Winter Soldier
Audience Reviews for Captain America: The Winter Soldier
½
It's suspenseful, ominous and elaborate in its story. Captain America: The Winter Soldier is a solid burst of thrills and action that surpasses the previous installment and expectations. Indeed, the film is a great entry & sequel for this stand-alone-Avenger & bridge for the second phase of Marvel's Cinematic Universe's superhero empire. 4/5
Eugene Bernabe
Super Reviewer
½
While its first half is extremely good, well paced and has electrifying action scenes, the movie soon becomes bloated with silly revelations and twists. Besides, the plot also includes quite a few absurdities that demand a lot of our suspension of disbelief.
Carlos Magalhães
Super Reviewer
½
I have never been able to hide my disdain for the first Captain America film, as its only purpose was to set up the backstory for "The Avengers." Besides that it was also really bad. The effects were sloppy, the nostalgia was off-putting, and the story and villain were lame. With the Russo brothers behind the wheel on this film, the action is ratcheted up quite a bit, and it's really quite entertaining and well-choreographed. The interchange between the characters is interesting, the conflict that furthers the plot is intriguing, and the mysterious winter soldier is both a complex villain and a surreptitious foil. The main villain is even complex and well played, brining political undertones to the narrative. The conspiracy concerning S.H.I.E.L.D. and the secretive Hydra makes for an intense power play between Captain America, Black Window, and the members of the elite organization. The plot swerves into the Bourne trilogy oeuvre for a while, but most of the film is pure superhero action. The thing that keeps this from being absolutely perfect is the same as the first film. The set up for the next "Avengers" film often leaves inconsistencies in the plot and a lack of resolution. Altogether this was a solid part of the "Avengers" canon and a decent set-up for the next film.
Spencer S.
Super Reviewer
Captain America: The Winter Soldier Quotes
| | |
| --- | --- |
| Natasha Romanoff/Black Widow: | I only pretend to know everything. |
| | |
| --- | --- |
| Natasha Romanoff/Black Widow: | Where did Captain America learn to steal a car? |
| Captain America/Steve Rogers: | Nazi Germany. And we're borrowing. Get your feet off the dash. |
| | |
| --- | --- |
| Sam Wilson/Falcon: | You know you're a lot heavier than you look. |
| Captain America/Steve Rogers: | I had a big breakfast. |
| | |
| --- | --- |
| Apple Employee: | Can I help you guys with anything? |
| Natasha Romanoff/Black Widow: | Oh, no, my fiancé was helping with honeymoon destinations. |
| Captain America/Steve Rogers: | Yeah... we're getting married. |
| Apple Employee: | Cool, where are you guys thinking about going? |
| Captain America/Steve Rogers: | Um... New Jersey. |