Captain Caution
(1940)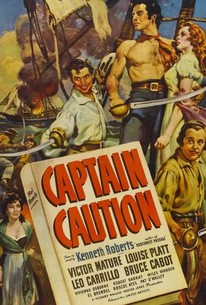 AUDIENCE SCORE
Critic Consensus: No consensus yet.
Movie Info
Set during the war of 1812, Hal Roach's Captain Caution is an unusual swashbuckler in that the "hero" is actually the heroine. Louise Platt plays Corunna, the daughter of Captain Dorman (Robert Barrat), skipper of the American vessel The Olive Branch. When Dorman is killed in battle, Corunna courageously assumes command of the ship, with the help of muscular first mate Dan Marvin (Victor Mature). While trying to bring a valuable cargo to America, the Olive Branch is captured a number of times by the British, but on each occasion Corunna and Marvin manage to wriggle free and carry on their mission. Making life tougher for Corunna is the presence of the lacivious Slade (Bruce Cabot), who'd like to claim both the girl and the ship as his own personal property. Based on a novel by Kenneth Roberts (Northwest Passage), Captain Caution is currently available on video in a computer-colorized version; the reader is advised to hold out for the black-and-white original.
Critic Reviews for Captain Caution
All Critics (2) | Fresh (1) | Rotten (1)
Unconvincing but lively adventure seafaring story, set during the War of 1812.
Hal Roach's historical swasbuckling adventure, which features a strong woman as its hero, was nominated for the Best Sound Oscar.
Audience Reviews for Captain Caution
Captain Caution Quotes
There are no approved quotes yet for this movie.