Captain Kidd
(1945)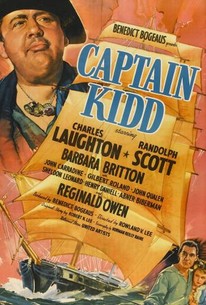 Movie Info
Charles Laughton plays an 18th-century pirate who takes advantage of the king of England and finds himself wanted by the king's men. This adventure also features Randolph C. Scott, John Carradine, Sheldon Leonard, John Qualen and Gilbert Roland among others.
Critic Reviews for Captain Kidd
Audience Reviews for Captain Kidd
½
It's a pirate movie, so there's that, but the only real draw here is Charles Laughton, backstabbing and murdering with particular glee, aiming to become a peer of the realm by fair means or foul. Why they cast Randolph Scott as a scion of England I cannot guess but he serves only adequately as the dutiful son of a murdered lord. Eh.
Kevin M. Williams
Super Reviewer
Charles Laughton is NOT one of my favorite actors. I usually find him dull and boring. The only film he's in that I actually enjoyed was Island of Lost Souls, but that had more to do with the film's atmosphere and that Laughton was well-cast in the role. While he gave a good performance, it had more to do with Laughton as a person that influenced that performance, which is what made it good. I can't say I'm incredibly impressed with Randolph Scott either. I suppose if put in the right role, like Laughton, he'd pull something off good. This all leads me into Captain Kidd, which is about as boring as watching paint dry. The performances are terrible, the story is boring and meanders all over the place and there's really no high seas adventure, which is implied on the film's poster. It's just a boring mess, and I wanted it to end long before it even reached its halfway point. In other words, this is one of the most skippable movies you'll never see.
Tim Salmons
Super Reviewer
½
With that cast it should have been better. Just sort of chugs along without the sense of derring do required for this kind of adventure. Scott looks ridiculous dressed up as a pirate, Laughton does his best but this is just blah.
Captain Kidd Quotes
There are no approved quotes yet for this movie.