Captain Marvel
(2019)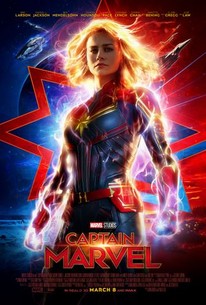 TOMATOMETER
AUDIENCE SCORE
Critic Consensus: Packed with action, humor, and visual thrills, Captain Marvel introduces the MCU's latest hero with an origin story that makes effective use of the franchise's signature formula.
Movie Info
The story follows Carol Danvers as she becomes one of the universe's most powerful heroes when Earth is caught in the middle of a galactic war between two alien races. Set in the 1990s, Captain Marvel is an all-new adventure from a previously unseen period in the history of the Marvel Cinematic Universe.
News & Interviews for Captain Marvel
Critic Reviews for Captain Marvel
Audience Reviews for Captain Marvel
Going into this film I had questions about Brie Larson's casting but expected a great story that fed off the current state of the MCU. Turns out I had that back asswards. Larson fit the role perfectly and puts on a great performance, but the story is pretty lazy and the humor is disappointingly corny, especially when you consider how surprisingly funny Marvel movies are capable of being. I also hope future movies include a "patch" that sees a "Captain Marvel nerf" just to keep things interesting, but at the same time, I enjoy watching action sequences of her overpowering everything in her way. this film is like a cheese platter; the Brie almost saves it, but in the end it's just an average appetizer to the main course that is End Game.
Sanjay Rema
Super Reviewer
Another Marvel blast, starting off with a loving tribute to the late Stan Lee. While some of the action sequences are somewhat formulaic, you don't really notice it because the chemistry between the actors is a pleasure to behold and it's all just so much fun. There are some rather surprising character developments too, which keeps things interesting. Great songs and some 90s nostalgia sometimes make you feel like watching a cop buddy movie a la Lethal Weapon. Larson is a fantastic leading lady with a wide range from bad-ass to vulnerable. Knowing she will be among the prominent faces of the coming MCU phases gets me pretty excited. The awesome Ben Mendelsohn and the cat are stealing a couple of scenes here, though, which just shows another of the movie's strengths: an equally outstanding cast.
½
Wonder Woman may have beaten her to the punch but Carol Danvers, a.k.a. Captain Marvel, deserves her own share of headlines as the first woman to have her own starring vehicle in the highly successful Marvel Cinematic Universe (MCU). Her presence was first teased in the post-credit scene of Infinity War. After twenty-one films, Captain Marvel gets squeezed into the penultimate chapter before closing the book on the MCU as we know it for a decade, and it feels like a throwback in both good and bad ways. Carol Danvers (Brie Larson), or âVersâ? as sheâ(TM)s known on the Kree home planet, is part of an elite alien squad of ânoble warrior heroesâ? fighting in a long-running war against another alien race, the shape-shifting Skrulls. Carol Danvers goes back to her home planet of Earth (a.k.a. Planet C-53) in the 1990s to look for a hidden weapon linked to a mentor she canâ(TM)t quite remember, a woman (Annette Bening) from her past life on Earth as an Air Force pilot. Carol Danvers must try and recall who she is with the help of Agent Nick Fury (Samuel L. Jackson) and stay one step ahead from the invading Skrulls. This definitely feels like a lower-to-mid tier Marvel entry, something more akin to the Phase One years (2008-2012) where the initial franchises were just starting to get a sense of direction and personality. They were also lacking the larger depth of character development, social and political messaging, as well as judicious independence from the overall studio formula that has come to define dozens of superhero blockbusters. Itâ(TM)s not a bad movie, and is fairly entertaining throughout its 124-minute run time, but itâ(TM)s hard not to notice the shortcomings that, frankly, havenâ(TM)t been this transparent in an MCU movie for some years now. I had to think back on a comparable MCU experience and I had to go back to 2015 with Avengers: Age of Ultron or maybe even 2013â(TM)s Thor: The Dark World. In short, Captain Marvel just feels a little less super in many important areas. This is the first female-lead superhero film in the MCU (sorry Black Widow) and Carol Danvers has been a character in Marvel comics since 1968, and yet the film doesnâ(TM)t put together a compelling case why she is the one getting her big screen moment. The character suffers that wonderfully tired movie trope of the foggy memory, so we have a protagonist trying to discover who she is alongside the audience. This would be a fine starting point for her to essentially reclaim her humanity and her agency as she travels back to good ole C-53 and learns more about her past. Thereâ(TM)s a core of a beginning theme already present there, the nature of what it means to be human, and how it can be viewed as a weakness by n alien species and how it comes to be a strength for her. Maybe thatâ(TM)s too pat but itâ(TM)s a start. The problem is that Carol Danvers isnâ(TM)t seen to be that interesting. Sheâ(TM)s somewhat boring and the presentation feels a tad inauthentic; when sheâ(TM)s quippy it feels forced, and when sheâ(TM)s badass it feels lethargic. Thereâ(TM)s a personal journey that challenges her to assess her preconceived notions of good and evil in an ongoing intergalactic conflict, but itâ(TM)s so impersonal. Even when sheâ(TM)s revisiting with friends and reminiscing (what she can) it doesnâ(TM)t feel like weâ(TM)re getting that much more insight than we had before. Sheâ(TM)s a warrior. Sheâ(TM)s upstanding. She definitely doesnâ(TM)t like men telling her what she can and cannot do. But what else do we know besides her increasingly invincible super powers? What is most important to her that drives her? What are her flaws other than a faulty memory? When she goes full super saiyan it should be celebratory and joyous and instead it feels more weirdly perfunctory. I love Larson as an actress and have been singing her praises for dramas (Room, Short Term 12) and comedies (21 Jump Street, Scott Pilgrim) for years, and I kept waiting and waiting to be wowed by her in this role. I was left unfulfilled. Larson is a terrific actress and can be so expressive, resolute, heartbreaking, and inspiring, and I grew frustrated as the movie kept her talents buttoned up for too long. She seems too removed from the action even as itâ(TM)s happening in the moment. Itâ(TM)s not that sheâ(TM)s too serious (âsmile moreâ? chime the denizens of cretinous âmenâ(TM)s rights activistsâ?) because her character should be serious. Itâ(TM)s that she hasnâ(TM)t been given enough depth and interest a hero deserves. Nate's Grade: B-
Nate Zoebl
Super Reviewer
Captain Marvel Quotes
There are no approved quotes yet for this movie.