Captain Newman, M.D.
(1963)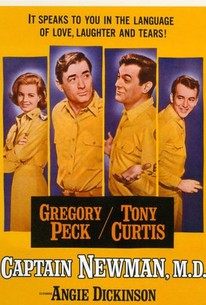 Captain Newman, M.D. Photos
Movie Info
Set in a VA psych ward towards the end of WW II, this drama chronicles the attempts of the staff psychiatrist to help three deeply troubled veterans. His task is made more difficult by mountains of red-tape and military guidelines. One of his patients is a guilt-ridden pilot convinced that he is a treacherous coward. Another is a colonel who cannot live with the fact that he is responsible for the deaths of many young men. Finally, there is a man who has been deeply traumatized after spending 12 months hiding out in a basement surrounded by Nazis.
Critic Reviews for Captain Newman, M.D.
All Critics (5) | Fresh (3) | Rotten (2) | DVD (1)
This captivating comedy-drama anticipates M*A*S*H in its exploration of the effects of war on military doctors and the patients in their care.
A good movie to catch (and "catch" is the verb) if it's playing, say, on Eighty-sixth Street and you live on, say, Eighty-first Street and don't feel up to reading Leo Rosten's book of the same name.
Bobby Darin received his first and only Oscar nomination for playing a shell-shocked soldier-patient under the care of Gregory Peck's military psychiatrist.
Audience Reviews for Captain Newman, M.D.
This is the story of a military doctor working at a mental hospital in Arizona catering to soldiers during World War II, and all of the various tuff he has to deal with, from suffering patients, to an oddball new orderly, and a relationship with one of the nurses. The thing that immediately caught my attention was the cast: Gregory Peck, Tony Curtis, Angie Dickinson, Eddie Albert. Dick Sargenym and supporting roles by Bobby Darin and Robert Duvall. The cast alone makes this a hell of a picture. It's not just the cast, though. There's a good story here. It's a nice little melodrama typical of the times filled with humor, romance, and sadness, but the cast holds it together. I was really happy with how they were able to blend the laughs with some of the more serious stuff and keep it from being too corny. The cast are great, and so are their performances. Peck is in typical Peck mode, but that's just fine. Curtis is a real scene stealer, providing some of the best laugh moments, a lot of which are caused just because of goofy faces he makes. The real drama is brought by Darin, Albert, and Duvall who all have some terrific moments of real, moving acting. This is just a nice good old fashioned film, but that's okay. I liked it. It's entertaining, yet it tries to do a little more.
Chris Weber
Super Reviewer
Enjoyable comic drama. Peck is a tower of strength, Angie stalwart, and Tony Curtis most amusing which is welcome when it gets to be heavy going at times. Rest of the cast full of familiar faces perform well. Only problem is that it's overlong.
Captain Newman, M.D. Quotes
There are no approved quotes yet for this movie.