Captain Underpants: The First Epic Movie (Captain Underpants)
(2017)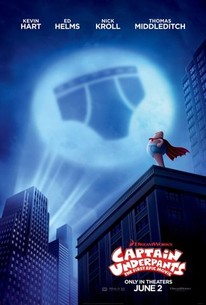 TOMATOMETER
AUDIENCE SCORE
Critic Consensus: With a tidy plot, clean animation, and humor that fits its source material snugly, Captain Underpants: The First Epic Movie is entertainment that won't drive a wedge between family members.
Captain Underpants: The First Epic Movie (Captain Underpants) Videos
Captain Underpants: The First Epic Movie (Captain Underpants) Photos
Movie Info
Based on the worldwide sensation and bestselling book series, and boasting an A-list cast of comedy superstars headed by Kevin Hart and Ed Helms, DreamWorks Animation brings audiences the long-awaited global movie event, Captain Underpants: The First Epic Movie. This raucously subversive comedy for the entire family tells the story of two overly imaginative pranksters named George and Harold, who hypnotize their principal into thinking he's a ridiculously enthusiastic, incredibly dimwitted superhero named Captain Underpants.
Critic Reviews for Captain Underpants: The First Epic Movie (Captain Underpants)
Audience Reviews for Captain Underpants: The First Epic Movie (Captain Underpants)
½
Based on a children's book series of the same name which I've never heard of (no surprise). The first epic movie? So are there going to be sequels? If not then this title will look kinda silly no? The plot: George and Harold are best friends and a pair of practical jokers in their school. At school you would have the usual array of characters such as the bully, nerd, jock, princess etc...Well these two were the pranksters. Their target being their grumpy principal Mr Krupp. One day after meddling with a fellow students invention Krupp decides to separate them which destroys the boys lives basically. In order to reverse this decision the duo hypnotise Krupp with a 'hypno ring' from a cereal box. They instruct Krupp to be more like Captain Underpants, a comicbook character they themselves created. For a time everything is going smoothly with the boys controlling Krupp as Captain Underpants. That is until a German scientist called Professor Pippy P. Poopypants arrives at the school. It seems that the professor is trying to rid the world of laughter (because he's fed up with people mocking his name). So now its up to Captain Underpants to save the world, but will the boys keep the Captain or reverse him back to Krupp? So as I'm sure you can tell from the character names here, this movie is inherently a kids feature (with names like Professor Pippy P. Poopypants I'm sure that's not a surprise). The whole idea of a superhero character running around in his underpants is of course an old joke passed down over the generations that (I believe) stems from Superman and his outfit. You know because Superman has those red pants on his outfit which look like underpants, which kinda look like they should be under his outfit. So since that very first incarnation there has always been this silly gag about superheroes and underpants which kids have always enjoyed. Whether or not this quirky character has anything to do with that I don't know, but its a safe bet. So the movie is extremely childish, because its aimed at young kids. The main protagonists spend their days drawing comicbooks in their treehouse and playing pranks. There's loads of school references (albeit more American) that kids will love to hate. Lots of kiddie toilet humour. And the mcguffin they use to hypnotise Krupp is from a cereal box, a cereal box! I remember the days when hunting for little collectible toys in cereal boxes was part and parcel of my childhood, an important part of the breakfast ritual. Literally everything the duo get up to is aimed squarely at kids because they will relate to it fully. Adults will most probably receive ripples of nostalgia but will possibly find things a bit too Saturday morning cartoonish. The real treat comes in the form of the movie visuals, something us adults can appreciate. The entire film is mainly CGI naturally but it has that claymation look to it. Everything is big round and solid with few edges, as if everything was made out of solid balloons. Its basically the same visual style as the 'The Peanuts Movie' but much much more colourful and vivid. You kinda wanna eat what you're seeing on the screen, it all looks deliciously edible. But next to that we also get snippets of other animation forms such as hand drawn, cutout, flash and a wicked little sock puppet sequence. Yes we've seen this type of thing before but its definitely a winning move. It all adds a really cool blend of dynamic visuals and imagination into the mix. Not that this movie lacks imagination, hell no, but its just really cool to see other forms of animation (one lasting plus point of the 'The Simpsons'). After doing a bit of research I was also impressed at how close to the original source material the visuals were. They really did stick to the book and capture that, dare I say, crude hand drawn style which is obviously mimicking children's drawings. All they did was make it pop in colourful CGI, kudos. Now I think about it the movies visuals also had a kind of Nintendo vibe about them I think (especially Poopypants giant toilet). An early 80's NES vibe about it, it could almost be a Mario movie if you use your imagination. I could easily see the Mushroom Kingdom being brought to life with these visuals. So whilst the visuals were terrific the plot was a rollercoaster for me. The movie starts out good enough with the boys doing what they do and then discovering how they can bring Captain Underpants to life, so to speak. That was all relatively relatable and jolly. But everything just gets way too crazy and off the wall when Poopypants turns up. Not having read the books I can't comment on how accurate it all was, and being an adult I'm not the target audience here. But the entire zombie thing had me rolling my eyes, because that isn't the go-to option for virtually everything is it. And Poopypants giant toilet invention is basically [b]too[/b] off the wall frankly, its almost [i]South Park[/i] levels of absurdity. Its all just a bit too weekday cartoonish for me, and probably other adults. But yeah, its stupid, its silly, its enjoyable, its for kids. Simple as that really.
Phil Hubbs
Super Reviewer
½
I get why a Captain Underpants movie was made. The climate is pretty much as ripe for superhero parody as it's ever going to be, Captain Underpants has enjoyed moderate achievement in terms of being a household name, I even remember more or less enjoying the books as a kid. But Captain Underpants is pretty bad. Not in any unexpected ways, it's reasonable to expect a certain level of humour from a film whose titular hero has "Underpants" in the name, but in my honest opinion, The "First" Epic Movie, should probably be the last one too.
There's not many kids' movies that you might want to sit through yourself, but lo, this one is one. Aimed solidly at early grammar school ages, there's enough fired over their little heads to keep awake the most bored of adult seen-it-alls. The worst thing about this feature is that you may find yourself whispering (and I do hope you're whispering) Captain Underpants battle cry the next day. To yourself. Only to yourself. Please.
Kevin M. Williams
Super Reviewer
Captain Underpants: The First Epic Movie (Captain Underpants) Quotes
There are no approved quotes yet for this movie.