Carandiru
(2004)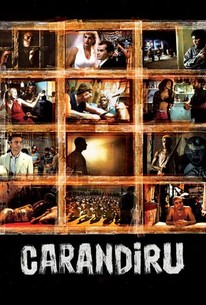 Movie Info
In a cell inside São Paulo's House of Detention, better known as Carandiru, two inmates have a score to settle. The atmosphere is tense. Another inmate, Black Nigger, a kind of "judge" for settling disputes among prisoners, solves the case in time to welcome the Doctor, who has recently arrived--eager to begin an AIDS-prevention program in the penitentiary. The Doctor is faced with extremely serious problems inside this place, known as Latin America's largest jail: overcrowded cells, decaying facilities, diseases such as TB, leptospirosis, cachexia, and the beginnings of an AIDS epidemic. The inmates have access to neither medical care, nor legal assistance. Carandiru, with upwards of seven thousand prisoners, is a huge challenge for the newcomer. But after working there for a few months he perceives something that will transform him: the inmates, even in this appalling situation, are not demonic figures. In his daily contacts with the prisoners who see him in his makeshift office, the Doctor witnesses solidarity, organization, and above all, a great will to live.
Critic Reviews for Carandiru
Audience Reviews for Carandiru
½
It may be interesting as a collection of chronicles about life in a Brazilian prison, but sadly this is a frustratingly superficial and simplistic film that doesn't discuss the actual causes of the revolt that led to the Carandiru massacre, being also uneven and full of awful talking heads.
Carlos Magalhães
Super Reviewer
A breathtaking film, that talk about prisoners with AIDS, life in prison, prejudice and homosexuality. All seen by the doctor Drauzio Varella. A true story based on the book Estação Carandiru. Shocking!
Lucas Martins
Super Reviewer
This is worth all 2 hours and 28 Minutes of your time. The best movie I've seen in a while and one of the top's when it comes to English Subtitles. This movie is in Portuguese Language so you will have to follow along the subtitles if your knowledge of that language is as limited as mind. This is a collection of life?s in a prison in Brazil, thru the life of a doctor from that prison. This movie should be watched by everyone that?s in a jail or prison in the US, just to see how good you have it here. This movie kept me glued to the screen. I have no idea how this movie got on my list, where I read the review or saw the preview, but I am glad I did. Its a must see and outstanding movie, NOT A DOCUMENTRY, a good movie. 5 stars and I haven't given that out in a while.
Bruce Bruce
Super Reviewer
Carandiru Quotes
There are no approved quotes yet for this movie.