Career Girls
(1997)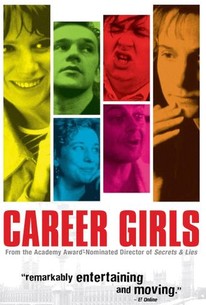 TOMATOMETER
AUDIENCE SCORE
Critic Consensus: Outwardly modest but carried along by Mike Leigh's deft direction, Career Girls gradually accumulates power as a study of shared history.
Movie Info
Two seemingly self-assured and successful friends reminisce about their college days only to unpack the emotional baggage they have both been carrying for six long years.
Critic Reviews for Career Girls
Audience Reviews for Career Girls
Two former university roommates reunite six years after graduation. Their professional visages and professional demeanors indicate that they have overcome the uncertainties, insecurities and emotional hurdles of youth. Both are now confident professionals who have reinvented themselves. They have metamorphosed from unworldly, naive, socially and romantically inexperienced schoolgirls into very together young women. Or have they? As the pair rekindle their relationship and reminisce about college days, ghosts from the past are unleashed. The spirits from bygone college days seem to beckon to the old closeted skeletons that were once locked away, but never confronted or reckoned with. As the girls metaphorically unpack their bags for the weekend reunion, both are forced to brave the issues that emerge from emotional baggage they still carry, but which neither has cared to acknowledge. Career Girls manages to slash away our veneers and force us to examine the shaky framework underneath in a way that is vaguely reminiscent of The Boys in the Band,
Career Girls is similar to the more cynical and socially indicting, The Vanities by Jack Heifner (stage production, NOT the musical). The Vanities is a comedy-drama centering on the lives and friendship of three Texas cheerleaders starting from high school. It charts the course of their friendship as well as each girl's individual development as influenced by popular culture, myths and stereotypes. Flashbacks reveal the evolution of their attitudes, misconceptions and social maturation. We see in a satirical and poignant way how life experience shatters the myths, challenges the stereotypes, and re-molds their characters from being naive cheerleaders to becoming rebellious, cynical, and oh-so worldly. The Vanities provides a humorous parable about how we progress to become 'older and wiser.' It builds on issues and observations that are ubiquitous enough for us to see ourselves in a way that makes us laugh at times, wince and bite our lips at others. The Vanities saw one of the longest Off-Broadway runs on record., The non-linear plot device of using flashbacks in Career Girls produces the same effect. It both charts and silhouettes the girls' journey from 'there' to 'here.' Career Girls traverses a briefer time period than The Vanities, from college to six years after. The focus is on relationships rather than character, what becomes of relationships, what effect they have on the girls, and how and where the outcomes have steered their lives and psyches. Whereas The Vanities makes us laugh, scoff, and cringe, Career Girls makes us laugh, cry and reflect. The ending to Career Girls, is less cynical than that of The Vanities, but no less devastating. It is poignant, but also sad to the point of being upsetting. It compels us to ponder many of life's more emotional 'what might have been's, in a disturbingly personal way. Movie trailer at: http://www.videodetective.com/titledetails.aspx?PublishedID=7130http://www.videodetective.com/titledetails.aspx?PublishedID=7130
Steve Strange
Super Reviewer
I liked this Mike Leigh film more than Secrets and Lies but very few have actually bothered to see it. A must for Facebook people who are re-uniting with people from their past.
John Ballantine
Super Reviewer
Career Girls Quotes
There are no approved quotes yet for this movie.