Careful
(1993)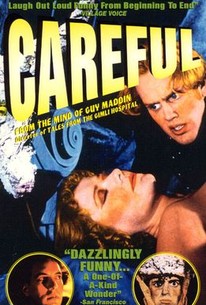 Movie Info
Guy Maddin and George Toles wrote this bizarre, stylish, and sometimes hilarious comedy, done in a mock-Expressionist style, about the 19th-century Alpine village of Tolzbad and its inhabitants dark secrets of incest, suicide, murder, and ghostly hauntings.
Critic Reviews for Careful
Audience Reviews for Careful
½
Repressed emotions erupt into suicide, betrayals and duels in a fairy tale Alpine village where everyone must whisper and watch their every move closely for fear of avalanches. This is Guy Maddin, so if features gorgeous stylized visuals based on German Expressionists (here, bizarre hand-tinting choices which lead to scenes performed in brilliant yellow and pink or extreme orange); but, although the setting here is pure fantastic Maddin, the quiet, melodrama-based plot takes too long to engage, making CAREFUL a movie that's more for established fans of this auteur than to newcomers.
½
"Careful" is set in a mountain valley where the villagers are worried that the slightest sound could set off an avalanche, and are on guard constantly against any action no matter how small that can spell their doom. Living in such a place, brothers Johann(Brent Neale) and Grigorss(Kyle McCulloch) enter into training for the perfect occupation at the butler school.(Not affiliated with Butler University in any way.) This way, Johann will have an occupation once he and Klara(Sarah Neville) get married. But then he starts having these weird dreams about his mother(Gosia Dobrowolska). "Careful" is another entertaining pastiche from Guy Maddin that tells its story in delirious fashion with tinted images. Madness along with incest are the central topics of discussion as the events, like an avalanche, are set off from the preceding one, each forming a worse catastrophe. This can only be expected in a village so repressed that any sounds of joy, anger or sadness must be contained. Or maybe the altitude finally got to everyone.
½
The cinematography and art direction are superb. However, the action stays in a less than interesting middle ground that isn't quite comedy and never pushes hard enough to delve into a meaningful exploration of the Freudian issues it seems to be hinting at.
Brett Warren
Super Reviewer
Careful Quotes
There are no approved quotes yet for this movie.