Carlito's Way: Rise to Power
(2005)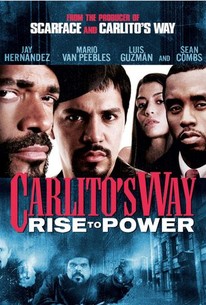 Carlito's Way: Rise to Power Photos
Movie Info
In this belated prequel to director Brian De Palma's 1993 crime drama, gangster Carlito Brigante (Jay Hernandez) rises through the ranks of the New York underworld to establish himself as Spanish Harlem's most powerful kingpin. As the intoxication of ultimate power tightens its firm grip on the rising heroin czar, he soon learns that greed and deception are the unspoken laws of the street. With no one to trust except for his two brothers in crime, Carlito begins building an empire founded on supplying the city's addicts with the one product that is always in demand. His dreams of ruling the city finally becoming a reality, Carlito soon learns that the only way to sustain his power is through loyalty and respect. Adapted from author Edwin Torres' acclaimed novel, Carlito's Way: Rise to Power also stars Mario Van Peebles, Luis Guzmán, and Sean Combs.
News & Interviews for Carlito's Way: Rise to Power
Critic Reviews for Carlito's Way: Rise to Power
Audience Reviews for Carlito's Way: Rise to Power
½
wooden acting, bad direction, and... P. Diddy... oh sorry i just found out he changed his name again to Sean.
Coxxie Mild Sauce
Super Reviewer
½
Rise to Power is the prequel to Brian DePalma's 1993 hit gangster movie Carlito's Way. This film chronicles Carlito's early years, and as the name suggests, his rise to power. Carlito was originally played by the quintessential gangster Al Pacino. This time around Carlito was played by the underrated Jay Hernandez, who did a great job filling the big shoes. However, the distinct nationalities of Pacino and Hernandez are vastly different. The main problem with this film is that it ties together NOTHING from the first film. One of the advantages of doing a prequel is that you have the entire conclusion to the story at your disposal to work with. The new director, Michael Scott Bregman, did a horrible job of piecing the puzzle together. In the original film we were constantly reminded of what a bad ass Carlito used to be, and this film fails to deliver that storyline. Also, it would have been nice to see characters from the original appear in this film as well. The only returning roles were Luis Guzman's character and Carlito. No one else is introduced, which was highly disappointing. If Rise to Power had been made as its own separate movie, it would have been much better. It had an interesting, although linear, storyline. The director played it safe. With these kind of prequels you come to expect lots of gun fights and action since that is how one gains "power." Sadly, this was not the case... there was generally more drama than action in this film. Bregman also did a poor job of setting a mobster tone for the film, and the setting felt more modern than it's intended 1960's time line. In the end, this movie is plagued by poor directing and poor screen writing. Ultimately it's not a bad gangster film, but it IS a horrible prequel. Lower your expectations....
½
Not as bad as some people might be led to believe, but not as well done as the original - not that it was supposed to be. The acting is well done (and yes, even Diddy with a little more experience could become a good actor) with Hernandez doing a good job that was just short of being Pacino-worthy. It's not a constant ghetto shootout like I expected it be, but rolls along nicely at a good pace. A good companion piece.
Derek Daniels
Super Reviewer
Carlito's Way: Rise to Power Quotes
There are no approved quotes yet for this movie.