Carmen Jones
(1954)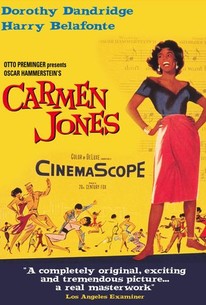 Movie Info
In 1943, Oscar Hammerstein Jr. took Georges Bizet's opera Carmen, rewrote the lyrics, changed the characters from 19th century Spaniards to World War II-era African-Americans, switched the locale to a Southern military base, and the result was Carmen Jones. Dorothy Dandridge stars as Carmen Jones, tempestuous employee of a parachute factory. Harry Belafonte plays Joe (originally José), a young military officer engaged to marry virginal Cindy Lou (Olga James). When Carmen gets into a fight with another girl, she is placed under arrest and put in Joe's charge. Succumbing to her attractiveness, Joe accompanies Carmen to her old neighborhood, where, after killing a sergeant sent to retrieve him, he deserts the army. Carmen tries to be faithful, but fortune-telling Frankie (Pearl Bailey) warns her that she and her soldier are doomed. Enter Joe Adams in the role of boxer Husky Miller (a play on Carmen's bullfighter Escamillo), who sweeps Carmen off her feet, ultimately with tragic consequences. Alhough both Dorothy Dandridge and Harry Belafonte were singers, their opera voices were dubbed in by LeVern Hutcherson and Marilyn Horne. ~ Hal Erickson, Rovi
News & Interviews for Carmen Jones
Critic Reviews for Carmen Jones
Audience Reviews for Carmen Jones
½
Otto Preminger directed this all african-american cast in a "modernized" version of Georges Bizet's "Carmen", with lyrics written by Oscar Hammerstein II. Carmen Jones (Dorothy Dandridge) works in the parachute factory and seduces Joe the pilot (Harry Belafonte) away from his sweet little girlfriend. Joe's life soon takes a downward spiral as Carmen brings him nothing but bad luck. As he enters his lowest point, Carmen is spirited away by a big time boxer named Husky Miller. He gives her all the things money can buy and she soon gives Joe the brush off (something he doesn't take lightly). The storyline is well adapted from the classical opera, and the performances are all great, but I had difficulty following the Hammerstein lyrics, and those lyrics that I could follow didn't impress me. I'm sure there was some novelty to having an all african american cast, but fortunately, the film survives the era from which it came relatively unscathed. That is to say, there are no real racially cringe-worthy moments. It's enjoyable as Carmen, and reminds me a little of 1959's "Black Orpheus", in that there's a joyous lust for life (the latter film just edges it out however).
Devon Bott
Super Reviewer
½
Two seminal musicals of the fifties were Porgy and Bess and Carmen Jones. Both had black casts which was subversive for the time period, and both were operas. The main actress is the sultry Dorothy Dandridge, who would go on to become the first black woman to be nominated for a Best Actress Oscar for this film. She co-stars with Harry Belafonte, who was most famous at the time for bringing Calypso music to prominence in the United States. Though both were singers, and famous for their presence on screen and off, they were both dubbed. One reason for this was the fact that the music was operatic and the two singers who dubbed were opera singers, one of which was the soon to be famous Marilyn Horne. Most of the cast was apparently dubbed for this large scale musical, the lyrics for which were written by Oscar Hammerstein the 2nd. The original music was actually from George Bizet's Carmen, a French opera about a gypsy who seduces a soldier and then double crosses him. The film pretty much follows the main plot of the opera, except that the time period has been changed to World War Two, and they made it an all black cast. Many historians have prompted that the choice to make the entire cast black and excluding any white participants "feels like a relic from the gruesome social straitjacket that was segregation." (Andrew Pulver) I do agree with this, especially when the story transfers to large cities and there's no diversification in the shots which just feels strange. I did like that like George Gershwin's Porgy and Bess this gives African American performers, without an outlet, to be given their just dues in an industry that was very white at the time. The music can be obnoxious at times, because it's from the original Carmen opera yet the lyrics' subjects are about dancing, fighting, and cards which at times feel conflicting. The cast is brilliant, including the swishy hipped Dorothy Dandridge as Carmen Jones herself. The best performance was Harry Belafonte, who at first seems so likable and prideful, but unravels under Carmen's gaze and eventually cracks. This film has since been added to the National Film Registry and has made a sure impression on popular culture. Really an enjoyable gem of a film.
Spencer S.
Super Reviewer
½
Impressive updating of Bizet's Carmen benefits hugely from wonderfully expressive performances by the whole cast with Dorothy Dandridge being the standout. Preminger keeps the film moving and colorful avoiding his occasional tendency toward ponderousness. Pearlie Mae is fun as Frankie and lightens the heavy aspects of the film whenever she's on screen.
Carmen Jones Quotes
There are no approved quotes yet for this movie.