Carnosaur 2
(1995)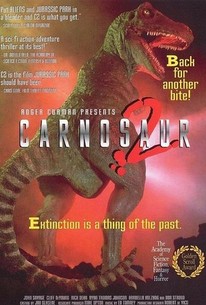 AUDIENCE SCORE
Critic Consensus: No consensus yet.
Movie Info
The dinosaurs are back, and they're getting hungrier by the minute in this sequel to the terror tale Carnosaur. There's been a call for help from a secret underground military facility deep in the Nevada desert, so a rescue team led by Maj. McQuade (Cliff De Young) and trouble-shooter Reed (John Savage) is sent out to investigate. When they arrive, the facility's staff are all dead -- the only living person they can find is a lost, disoriented teenager named Jesse (Ryan Thomas Johnson) who is wandering through the flats. As they investigate, McQuade and Reed make two terrifying discoveries. A cache of high-grade plutonium has been stored there, but the containment is faulty, and a cloud of deadly radiation is slowly but surely being released. To make matters worse, the Army had found a number of dinosaur eggs during a dig and had stashed them at the Nevada facility...and the radiation has caused them to hatch, with a pack of hungry velociraptors patrolling the area as a result. Carnosaur 2 also stars Don Stroud, Rick Dean, and Arabella Holzbog.
Critic Reviews for Carnosaur 2
Audience Reviews for Carnosaur 2
A while back I reviewed a horrendous dinosaur flick called Carnosaur which I really hated allot. While the original had its poorly written original plot, the sequel rips-offs a well regarded classic while still retaining issues from the first Carnosaur. Carnosaur 2 could be consider the biggest rip-off of Aliens without the horrid label of being a remake or reboot. You got a secluded base where everyone is killed by monsters except for a single child, marines type characters to sort out the mess, crawling through vents with one character going back and blowing himself up, a helicopter pilot being killed by a monster, and finally a climax where our character fights off the monsters with a industrial machine and pushes it into a pit. Unlike Aliens where it was entertaining to watch and had great effects, Carnosaurs 2 is heavily unoriginal with effects that makes even Barney the Dinosaur look menacing. We also have to wait thirty minutes for any dinosaurs to come up which by then a third of the movie is already finished and you're mostly likely asleep by this point. Would you believe this sequel also rips-off Apocalypse Now by playing "Ride of the Valkyries" in a helicopter. Wow that's two classics this rips-off from and unfortunately it doesn't fit the "so bad its good" category either. If you're wondering how Dinosaur exists in a military nuclear base, don't worry because the writers completely forgot to tell us that part. Even the first had the explanation of using chicken eggs to breed these plastic dinosaurs, which is completely stupid but it's something at least. I also like how in the sequel someone gets their leg eaten off and stops screaming. I wonder what's going to come off in the next Carnosaur, maybe someone butt-cheeks? The climax is very pathetic as the filmmakers actually used stock footage from the first movie, now that's what I call poor film-making. The way it's shot is very poorly done as it shows us the same angle and goes on for five minutes. You can't make a forklift battling a plastic dinosaur entertaining to watch if you're showing us the same angle over and over again. The acting is just as terrible, there's no passion or even the smallest effort in this shameless rip off. Carnosaur 2 is a shameless rips-off with no passion and should be avoided, or burning it which is more satisfying. I'll stick to Aliens over this piece of trash any day.
Caesar Mendez
Super Reviewer
Well see Take out the Aliens in Aliens and replace it with Dinosaurs and set it on earth and in the Nevada desert. And you get Carnosaur 2. I got to say none of the sequels are good there all average to crap the third is even worse then this it's just so unbearable to watch at least this had some entertaining scenes. But if I had to watch it once more I might just watch Aliens. So recapping what happened at the end of the first film (Spoilers) The Virus failed to initialize and target. And the world wouldn't be contaminated with dinosaurs the military secured the last remaining ones by shooting them dead and burning them. The contaminated victims were burned and buried as well. Then out of nowhere in this the dinosaurs are back and they attack a mining facility not far from the setting in the first film and killing them all. A team of technicians are sent in to investigate. Well of course they run into them and they start dying there helicopter crashes and there's no way out. Like I said if I wonted to see this I would watch aliens. 30% for story just Aliens all over again but this is boring and dull 20% for acting most of them can't act for shit. 70% for special effects are good there truly the only good thing about the film. 60% for characters some of them you feel for when they die other times no. 50% for everything else nothing real good. Look if you have seen the first just skip it and everyone else do the same. Keiko's score 49-100
½
Certainly the best in the very bad series. Even if that is just because it has the best looking dinosaurs, which isn't saying much at all. I enjoyed it for it's obvious "Who gives a fuck about how these look?" mentality. It has hilarious scenes of dinosaurs popping out from all kinds of places and just tearing arms off. The climax is the same as the first film, which is a bit of a downer.
Luke Baldock
Super Reviewer
Carnosaur 2 Quotes
There are no approved quotes yet for this movie.