Carnosaur 3: Primal Species
(1996)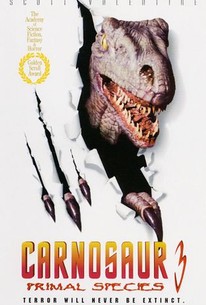 AUDIENCE SCORE
Critic Consensus: No consensus yet.
Carnosaur 3: Primal Species Photos
Movie Info
The third in a series of gory films about voracious genetically engineered dinosaurs who escape and run amok, the action starts when international terrorists hijack what they think is valuable freight. Instead, the cargo turns out to be the deadly lizards, and boy are they hungry.
Critic Reviews for Carnosaur 3: Primal Species
Audience Reviews for Carnosaur 3: Primal Species
Directed by Jonathan Winfrey and staring Scott Valentine, Janet Gunn and Rick Dean Carnosaur is the best movie ever made because of how creative it is and it is still my favorite film after all these years. Before Carnosaur it was howls moving castle, Meany still ask me why it is my favorite movie I like it for all the wrong reasons okay. Dinosaurs killing people, People fighting back, Getting there arms and legs torn off, Big battle between a T-REX and a bulldozer. It just makes the best movie. "SPOILERS" Before I write this review I won't to recap what has just happened so you understand why I hate it. CARNOSAUR A deadly biological virus is be unleashed upon the world and infects a small town and the virus aftermath if not contained will wipe out the human race and Carnosaur will roam the earth again. 2 people an environmental activist and a security guard try to stop the spread before the Carnosaur escape even further. CARNOSAUR 2 In the aftermath the virus failed and was rendered useless and the remaining Carnosaur were shot dead and burned same with the contaminated victims. But not long after the Carnosaur are back and they take over a mining facility. A team is sent into find out what happened. CARNOSAUR 3 International terrorists are terrified when their hijacked cargo turns out to be genetically engineered dinosaurs. Now... the army commando team attempting recovery of this secret cargo is about to make the same deadly discovery. Carnosaur 3 is just so terrible same with the others how did it go from being my favourite movie is the first film to something so crap and awful. The reason is that NO ONE CAN WRITE SOMETHING GOOD. Its just the same shit over and over trust me. 0% for story nothing cool ever happened just Carnosaur coming back and escaping once again. 5% for acting again no one can act for shit. One person was alright. 5% for special effects the Carnosaur look awful one of the effects out of the whole movie look okay. The action scenes are very dull. 0% for characters yet again there is noting on them just them talking about nothing. 1% for everything else. Not sure what doen't make me give it a zero. Here is a nice fact in japan this is called primal species do you know why? Becuase there never was a carnosaur 3 they called it that for some little recignition. Thats why the story is so untrue to the others. Just skip it. Keiko's score 5-100
½
Men in suits as dinosaurs is simply brilliant. Who needs Jurassic Park when you can have much more cheesy fun with Primal Species. The T-Rex that can only move its stiff neck up and down is also awesome. The dinosaur vision segments are a fantastically cheap way of avoiding any real efforts at film making and the actors shout, spit and take it all very seriously. This is high camp comedy with the added bonus of an army officer who mentions donkeys quite a bit. ???
Luke Baldock
Super Reviewer
½
Cheesey movie. If you're a special FX freak, you'll be disappointed by this movie, but if you like B-Movies and dinosaurs, you'll love this movie.
Steven Vincent Gee
Super Reviewer
Carnosaur 3: Primal Species Quotes
There are no approved quotes yet for this movie.