Carol
(2015)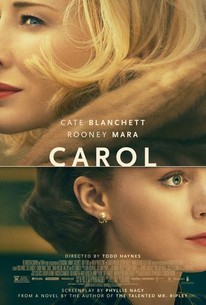 TOMATOMETER
AUDIENCE SCORE
Critic Consensus: Shaped by Todd Haynes' deft direction and powered by a strong cast led by Cate Blanchett and Rooney Mara, Carol lives up to its groundbreaking source material.
Movie Info
In this adaptation of the novel "The Price of Salt" by Patricia Highsmith, Therese (Rooney Mara), a young department-store clerk in 1950s Manhattan, meets Carol (Cate Blanchett), a beautiful older woman stuck in a depressing marriage of convenience. As their bond deepens and they become romantically involved, Carol finds the strength to leave her husband (Kyle Chandler). Unfortunately, her spouse starts to raise questions about her fitness as a mother when he realizes that Carol's relationships with her best friend Abby (Sarah Paulson) and Therese are more than just friendships. Directed by Todd Haynes.
News & Interviews for Carol
Audience Reviews for Carol
As a talented writer, Patricia Highsmith has been responsible for the source material of some great film adaptations; Alfred Hitchcock's Strangers on a Train, Anthony Minghella's The Talented Mr. Ripley and Hossein Amini's The Two Faces of January are a notable few. However, Todd Haynes' Carol is an adaptation of the 1952 novel The Price of Salt which Highsmith wrote under the pseudonym of Claire Morgan to avoid harming her reputation and ruining her career. This was a novel that would've caused widespread controversy for such a high-profile author at this time and it wasn't until 1990 that Highsmith was credited. Now, over 60 years later, Todd Haynes brings it to the screen for a contemporary audience and affords it the respect that it's been deserving of for too long. Plot: Therese Belivet (Rooney Mara), is a young woman who longs to be a photographer but for the moment finds herself working as a clerk in a department store. It's here that she encounters Carol Aird (Cate Blanchett), an alluring woman with a wealthy background. There's a spark between them and what begins as a friendship soon develops into an unexpected love affair that does not follow the conventional norms of 1950s America. Opening with Carter Burwell's sweeping music, Todd Haynes takes us back to New York in the 1950's where it's obvious from the very first moments that meticulous and extensive production design has went into this. Put simply, it's a breathtakingly beautiful film. Haynes basks in a luxurious palette of colours that's captured so magnificently by Edward Lachman's cinematography where the deep hues radiate from the screen and the attention to detail is so precise that it's difficult to accept that a director can achieve such exquisite sophistication. Visually, there's so much going on that absolute credit must go to Haynes' entire crew; Judy Becker's production design is flawless while Sandy Powell makes a huge contribution with her striking costume design. The look of the film is one thing and it's undoubtedly a thing of beauty but Haynes also has the cast to convince you of this melancholic love story. Anchoring the film are two exceptional lead performances by Cate Blanchett and Rooney Mara. Both were deservedly Oscar nominated for their work and are an absolute delight to watch as Haynes gives them plenty of time to breathe and allows them to take ownership of their characters. Their subtle facial expressions and nervous eye contact always hint at something more. There's such nuance and delicacy to their performances that every moment of contact, be it eyes or physical touch, resonates so strongly that words often aren't even required. We regularly observe their characters through windows, door frames and at a distance which suggests an eavesdropping secrecy and Haynes often depicts them separated in crowded rooms, hinting at the difficulty of their taboo relationship. Such an approach from Haynes is a masterstroke. Even when the characters are distant from one another, the closeness and longing from them is palpable. Although this received widespread critical acclaim and garnered 6, thoroughly deserved, Oscar nominations it really isn't for all tastes. Some viewers may struggle with its languid pace which can make the film difficult to connect with - especially in its initial stages. That said, there is so much going on stylistically that your still swept along with the melodrama. Todd Haynes has crafted a gorgeous evocation of the 1950's era. It's hugely confident filmmaking from a director that seems to excel when approaching complex social issues during a time when society was less accepting and appearances were everything. Like his Far From Heaven before it, this is a stunning work of art that has, at its centre, a truly devastating and melancholic love story where individuals struggle with their freedom of expression. Mark Walker
Mark Walker
Super Reviewer
The fact that this absorbing romance exists (and deserves) to be told is a tragic indication of an outrageous intolerance that hasn't been left in the past but sadly persists even today, and it is a beautifully-directed film with two wonderful central performances and a gorgeous score.
Carlos Magalhães
Super Reviewer
Carol is a soft and beautiful film that showcases subtle performances from Blanchett and Mara.
Matthew Samuel Mirliani
Super Reviewer
Carol Quotes
| | |
| --- | --- |
| Carol Aird: | Everything comes full circle. |
| | |
| --- | --- |
| Carol Aird: | Dearest there are no accidents. |
| | |
| --- | --- |
| Therese Belivet: | I don't know what I want. How could I know what I want if I say yes to everything? |
| | |
| --- | --- |
| Carol Aird: | You take it or leave it. But if you leave it, we'll go to court and if we go to court,it will get ugly. |
| Carol Aird: | You take it or leave it. But if you leave it, we'll go to court and if we go to court, it will get ugly. |