Carousel
(1956)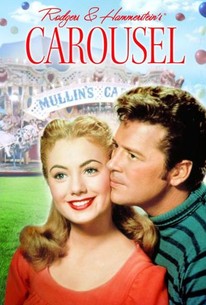 Movie Info
Carousel was adapted from the 1945 Rodgers and Hammerstein Broadway musical of the same name--which, in turn, was based on Liliom, a play by Ferenc Molnar. Gordon MacRae stars as carnival barker Billy Bigelow, who much against his will falls in love with Maine factory girl Julie Jordan (Shirley Jones). Billy proves an improvident and unreliable husband, but Julie stands by him. Upon discovering that Julie is pregnant, the unemployed Billy sees an opportunity for some quick money by joining his unsavory pal Jigger (Cameron Mitchell). The scheme goes awry, and Billy dies. Standing before the Pearly Gates, Billy is given a chance to redeem himself by the kindly Starkeeper (Gene Lockhart). He is allowed to return to Earth to try to brighten the life of his unhappy 15-year-old daughter Louise (Susan Luckey). Billy offers Louise a star that he has stolen from the sky; when Louise backs off in fear, Billy slaps her. He feels like a failure until he and his Heavenly Friend (William LeManessa) attend Louise's school graduation ceremony. There the invisible Billy watches as the principal (Gene Lockhart again) inspires Louise (and, by extension, Julie) by assuring her that so long as she has hope in her heart, she'll never walk alone. Frank Sinatra, the film's original Billy Bigelow, dropped out of the production due to laryngitis. ~ Hal Erickson, Rovi
News & Interviews for Carousel
Critic Reviews for Carousel
Audience Reviews for Carousel
Truly some of the most beautiful and most sophisticated music to come out of Broadway. If you like musicals and haven't seen this yet. you must. If I loved you
Time and again I would try to say
All I'd want you to know.
If I loved you
Words wouldn't come in an easy way
Round in circles I'd go.
Longin' to tell you, but afraid and shy
I'd let my golden chances pass me by.
Soon you'd leave me
Off you would go in the mist of day
Never, never to know
How I loved you . . .
If I loved you.
One of the greatest love songs to come out of musical theater. Gordon MacRae and Shirley Jones: A Hollywood musical match made in heaven. I wonder if Jones might have broken a few hearts in high school . . .
Carousel's story is different from most Hollywood musicals in several ways, the most significant of which is that true love is won right at the beginning, then is tragically squandered by Billy Bigelow, although not ultimately lost. Besides such memorable numbers as the "Carousel Waltz" theme itself and "You'll Never Walk Alone"--the ultiimate graduation song--, one of my all-time favorites is "When (the) Children Are Asleep," the beautiful duet, shared by Carrie and Mr. Snow on the way to the clambake, in which they dream of their married future together:
When the children are asleep we'll sit and dream
The things that every other dad and mother dream.
When the children are asleep and lights are low
If I still love you the way I love you today
You'll pardon my sayin' I told you so.
When the children are asleep, I'll dream with you.
We'll think what fun we have had and be glad that it all came true.
Lanning : )
Super Reviewer
One of the darkest if not the darkest of the big Hollywood or Rodgers & Hammerstein musicals this has an almost throughly unsympathic anti-hero and somewhat of a doormat, at least at first, for a leading lady. However it also has some of the most beautiful music ever written sung by two great artists. "If I Loved You" is a song so full of cautious yearning and guarded longing with beautiful simplicity it tells you so much about Billy and Julie any other back story would be wasted. "You'll Never Walk Alone" is starkly moving and "June Is Busting Out All Over" provides some much needed levity in the heavy proceedings. Shirley Jones, at perhaps the peak of her lovliness, and Gordon MacRae, always one of the most attractive men in films with his All American robustness, with their chemistry and charisma make the two main characters people you care about which especially in Billy Bigelow's case is not the easiest accomplishment. As far as their singing performances Shirley as was always the case is in exquisite voice but the real standout has got to be Gordon, blessed with a gorgeous baritone and a fine expressive style, he is terrific here particularly in his big showstopping set piece "Soliloquy". A beautiful film about imperfect people, and the redemption of one, that may not be politically correct if viewed through the prism of modern times but looked at from the persepective of the times it was made in is a great entertainment.
½
A nice, congenial presentation of Rogers & Hammerstein's stage-play, but not as dynamic as Oklahoma!. Still, Gordon MacRae and Shirley Jones are perfectly suited for their respective roles. A pleasant 1950's musical.
Randy Tippy
Super Reviewer
Carousel Quotes
There are no approved quotes yet for this movie.