Carry On Camping
(1969)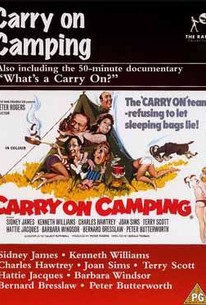 Movie Info
The popular British comedic troop is at it again in this installment of the series. The story begins as two guys try to convince their gals to go on a camping trip in a nudist colony. At least they think they are going to a nudist colony. Unfortunately, upon arriving to their "naked wilderness" all they find is a group of nymphomaniacal schoolgirls. Oh my!
Critic Reviews for Carry On Camping
Audience Reviews for Carry On Camping
½
The carry on series is something I grew up with, my parents use to watch them on the local ABC channel. Carry on Camping is one of the few I remember watching and enjoying, the film hasn't aged as badly as expected. The humour is not going to suit everybody, much like most English comedy films. The films are more of a sketch series that serve the overall storyline, but they are quite funny if a little dated now. I'm going to be watching some of these over the coming weeks and I hope they can maintain the funny humour. 24-03-2018.
Brendan O'Connor
Super Reviewer
An above average carry on film, Lots of sex humour as there always is, If you're a fan of Carry On films you won't be disappointed.
Jamie Clarke
Super Reviewer
½
One of the best Carry on films and funniest.