Cars
(2006)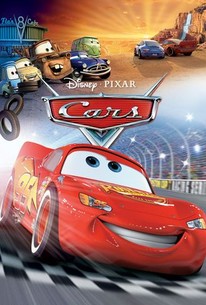 TOMATOMETER
AUDIENCE SCORE
Critic Consensus: Cars offers visual treats that more than compensate for its somewhat thinly written story, adding up to a satisfying diversion for younger viewers.
Movie Info
Lightning McQueen, a hotshot rookie race car driven to succeed, discovers that life is about the journey, not the finish line, when he finds himself unexpectedly detoured in the sleepy Route 66 town of Radiator Springs. On route across the country to the big Piston Cup Championship in California to compete against two seasoned pros, McQueen gets to know the town's offbeat characters--including Sally, a snazzy 2002 Porsche, Doc Hudson, a 1951 Hudson Hornet with a mysterious past, and Mater, a rusty but trusty tow truck, who help him realize that there are more important things than trophies, fame and sponsorship.
Audience Reviews for Cars
I'm going to address the elephant in the room first, which is the polarized critics and fans for Cars. Known as the weakest films in the Pixar universe, Cars hasn't ever been a fan-favourite, unless you're a little kid. I wanted to mention that first, because I truly believe I'm in the minority here. I think Cars is a very solid animated film with a lot more heart than people give it credit for. No, it doesn't do anything new in terms of storytelling, but the story that it does tell is very well-done. Released over a decade ago now, Cars still remains among the weakest of the films that Pixar has offered, but when most of your films are masterpieces, like Toy Story, Monsters Inc., or Wall-E, sometimes a harmlessly fun movie is just enough. Here is why I believe Cars is still an achievement, even though it's not as special as some of the other films. The set-up is really quite simple. A rookie by the name of Lightning McQueen is racing in his first Piston Cup against the reigning champ and a fierce competitor. All three end up in a three-way tie at the finish line and must compete in a three-way tie-breaker to determine the winner. On his way to the next location, he falls out of the truck while sleeping. Ending up in a place known as Radiator Springs, he is held there against his will after a few mishaps. Learning to love the residents and the town itself, he finds himself conflicted about wanting fame back or just to be genuinely loved by friends. This is a premise that's both fun for kids to watch, as well as a nice life lesson for them. Something that #Pixar has done beautifully throughout the majority of their films. A film that revolves around talking cars is obviously not to be taken too seriously, especially in an animated film, but once certain characters have their secrets revealed, the film also reveals its surprisingly emotional core. Deep down, this is a film about discovering who you really are. The character of Doc. Hudson is easily my favourite character in the entire film, due to the fact that he is the reason I was able to find some very effective emotion throughout the course of the third act. His relationship with Lighting is the highlight of this film and it always has been. Although this is a franchise that has become far too commercialized in its merchandising, wearing down its original flare, this is still a very strong film for what it sets out to achieve. Cars definitely isn't a film that needs to prove itself in terms of being award-worthy, but most of the criticism this film receives is for being incredibly predictable and not gutsy enough. I actually agree with both of those notions, as the film would've been very boring if he just simply met some people and returned back to race, but it's the effective humour and relationships that he develops with everyone that make you forget about the predictable conclusion. For the most part, Pixar is a studio that can elevate a streamlined premise and make it worth more than what's on the surface. For these reasons, although this film can be called by even the youngest of viewers, I feel it's still a very solid movie in the end. Look, if you haven't seen this film yet and you're thinking it's going to be one of Pixar's masterpieces, then I fear you will be sadly disappointed. If you go into it with the mentality that people think this first instalment is incredibly overrated, then I feel you can still have as much fun with it as I still do. No, it doesn't rake among their best, but Cars still remains to be a very well-animated, well-directed, and well-executed premise that has a lot more heart than people give it credit for. I thoroughly enjoy this movie from start to finish each time I watch it, but even I'll admit it's very streamlined. Cars is a solid movie that gets far too much hate.
½
So many people trash this film just because the plot is familiar and formulaic. Following a formula is not bad within itself, it is what is done with it that matters. This movie does the "big city guy in a small town" concept very well, and the novelty of seeing a world ruled by cars is pretty fun. The characters are surprisingly endearing and the animation remains as brilliant as with any Pixar effort.
Christopher Heim
Super Reviewer
½
Cars is a fun, entertaining and exciting animated feature that boasts a well crafted story that is sure to entertain fans of Pixar. Although not the greatest effort from the studio, Cars is lots of fun from start to finish. The voice is terrific and the animation is very well done as usual. Even if this film isn't perfect, there are still plenty of good moments to be had with this film. Although the film doesn't break new ground, it's a worthy addition to the studios track record of fine animated features. I enjoyed the film, and felt it was a worthwhile viewing. The film may not the finest Pixar film, but it delivers memorable entertaining that is fun for anyone looking for an amusing film. Cars is entertaining for what it is, but is not a Pixar classic by any means either. The jokes are good, and the cast do a good job in their roles. The story has heart, and is lots of fun if you're in the right mood. The characters are great, and varied. Pixar may have made better movies, but this one is still worth seeing if you loved the other films in the filmography. This is yet another stunningly animated feature that delivers what you'd expect from Pixar. The film has a few flaws, but there are enough good moments to be had here to make it a pleasant viewing experience. Cars adds nothing new to the Pixar formula, but it does retain everything you've enjoyed from previous films that they have made. Entertaining, funny and memorable, what more can you expect from a film that brought you classics like Toy Story and Monsters Inc. Cars is not a classic, but it's nonetheless fun entertainment for what it tries to do.
Cars Quotes
| | |
| --- | --- |
| Mater: | My name is Mater. |
| Lightning McQueen: | Mater? |
| Mater: | Yeah, like "Tuh-Mater", but without the "Tuh"! What's your name? |
| Lightning McQueen: | You...You don't know MY name? |
| Lightning McQueen: | You, you don't know my name? |
| Mater: | Oh, I know your name. Is your name Mater too? |