Cars 3
(2017)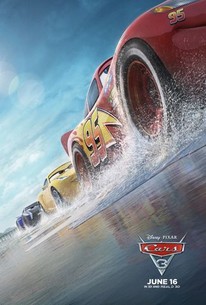 TOMATOMETER
AUDIENCE SCORE
Critic Consensus: Cars 3 has an unexpectedly poignant story to go with its dazzling animation, suggesting Pixar's most middle-of-the-road franchise may have a surprising amount of tread left.
Movie Info
Blindsided by a new generation of blazing-fast racers, the legendary Lightning McQueen (voice of Owen Wilson) is suddenly pushed out of the sport he loves. To get back in the game, he will need the help of an eager young race technician, Cruz Ramirez (voice of Cristela Alonzo), with her own plan to win, plus inspiration from the late Fabulous Hudson Hornet and a few unexpected turns. Proving that #95 isn't through yet will test the heart of a champion on Piston Cup Racing's biggest stage!
Critic Reviews for Cars 3
Audience Reviews for Cars 3
½
I saw this as part of a double feature with Guardians of the Galaxy Vol. 2 at our local drive-in theater. I have not seen either of the first two Cars movies, although I have seen clips and trailers. Instead of trying to shake up the genre this one returns to the form of the first one in this series. Paul Newman died only two years after the first Cars was released by Pixar, so it is nice to see respect paid through remembrances of his character Doc in this story. Like Rocky in Creed the character of Lightning McQueen is no longer the student or the hotshot new performer, but there is a new generation racing with better technology. Lightning struggles with increased corporate involvement and computer technology. He becomes the coach of a young female racer named Cruz Ramirez (Cristela Alonzo). It is a fun family adventure with these anthropomorphic autos audiences have grown to love. Pixar's animation, especially in the high speed races, is pretty cool and almost photo-realistic at times. There is plenty of charm and a few jokes to keep everyone entertained even though the story is an oft repeated one for older audience members.
Byron Brubaker
Super Reviewer
Lighting McQueen takes one last lap in Pixar's Cars 3. When new next-gen race cars start taking over the racing circuit Lighting Queen decides to update his training program in order to get the speed needed to continue to compete. The plot is pretty formulaic and predictable, and is constantly hitting the audience over the head with its theme of letting go in order to move forward. Still, the animation is really good and delivers some fun races. And there are some nice bits of humor. Cars 3 isn't the best of the series, but it's not a bad one to go out on.
Dann Michalski
Super Reviewer
The Cars franchise will probably always be known as the weakest films to ever come from Pixar, unless they really drop the ball. Personally, I really enjoyed the first instalment in this trilogy, so naturally I was looking forward to the sequel, which turned out to be a complete train-wreck of stupidity. For that reason, I had lost all interest in seeing this latest instalment, but remained optimistic in that it couldn't be any worse than its predecessor. Surprisingly, Cars 3 is just as good as the first, if not better. Yes, this film was able to pull this trilogy out of the dirt for one last ride, and it's a really solid one at that. With elements of countless comeback stories from classic rivalry films, Cars 3 embraces the cliches and elevates this third instalment to heights I never thought it would reach. Here is why this is the best possible way they could've ended this trilogy, even though nobody really asked for it. It was very clear that the response from the previous film had left audiences cold on this franchise. They would have to pull of a great hook to get the older audience members back into the theatre, and I believe this premise will do exactly that. Beginning the same way the original did, Lightning McQueen is on the race track, only this time he is racing as the reigning champ. With some new blood on the rise in Jackson Storm, McQueen is beaten badly and must recuperate and adapt to the new-age technology that these drivers are using. At its core, this really is just a comeback story involving a character you've come to love (if you liked the original that is), along with some very likeable side characters this time around. Without giving anything away about this film, my favourite aspect about the original was the growing relationship between Lightning and Doc. Hudson. Although that character passed away in the second film, they do find a way of utilizing him here and the are arc that Lightning is given made the movie as good as it is. In many ways, this is an actual improvement over the first film, but it ends up on par with it, as many of the great elements of Cars 3 harkens back to the first, so it wouldn't even be able to do certain things without the weight of the original. The portion of the film that I can discuss without spoiling anything would have to be the relationship between Lightning and his new trainer Cruze. Helping him adapt in order to be able to race the new competition, their chemistry is by far what carries this film from start to finish, which also leads me to my final point. What really put this film over the edge for me was the way the third act sells the film to kids and adults. Sure, the kids come for the comedy and the racing, which are both very much present here, but the comedy does take a back seat many times in order to serve the emotional core, which is what I enjoyed so much about the first film. There is a nice twist at the end of this film that really wraps a nice little bow around this trilogy, but too bad the second film is so bad. If you're not a fan of the original film, don't remember much about the original film, or are viewing this movie as your first experience in the world of Cars, then this twist won't have much of an impact on you, but for fans like myself, the payoff is well worth it. In the end, Cars 3 definitely won't win anyone over who wasn't a fan to begin with, but if you've sat through the last two films then I can see where some may agree that it has a very satisfying conclusion. The premise is cliched and most of the film is fairly predictable, but the twists more than make up for that and the relationships between characters are really well-done here. Cars 3's animation is some of Pixar's best yet, looking photo-realistic at times, and score for the race sequences got my adrenaline pumping, just like it did in the first. This is a great example of a movie that works equally for kids and adults. There is a much more mature story under the surface, while the kids still get the beautiful imagery and their favourite characters to gawk at on-screen. It doesn't break any new ground, but Cars 3 is far better than I was expecting it to be. Great conclusion to a very uneven trilogy.
Cars 3 Quotes
There are no approved quotes yet for this movie.