Carve Her Name with Pride
(1958)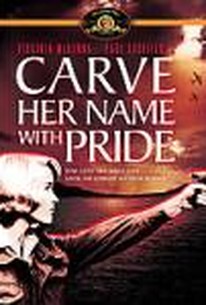 AUDIENCE SCORE
Critic Consensus: No consensus yet.
Movie Info
Based on a true story, Virginia McKenna portrays Violette Szabo, a 19-year-old London clerk whose husband is killed in action in WWII - whereupon she enlists as a British spy, working with the French Resistance. Captured on her second mission, she is sent to Ravensbruck concentration camp. With excellent performances, this is a simple story of heroism in the face of torture and death.
Critic Reviews for Carve Her Name with Pride
All Critics (3) | Fresh (3) | Rotten (0) | DVD (1)
Although overlong at two hours, this is a solid and stirring British true-life drama.
Chronicling the real-life exploits of WWII British spy Violette Szabo, the film serves its purpose and presents its subject matter in a moving and dignified manner.
Well-made biopic on patriotic war heroine and martyr Violette Szabo.
Audience Reviews for Carve Her Name with Pride
Wanting to do the right thing and bring a French soldier home for a dinner hosted by her French mother(Denise Grey), Violette(Virginia McKenna) meets Etienne(Alain Saury) in the park and invites him along. Romance soon blossoms between Violette and Etienne and in the sole moment when her friend Winnie(Billie Whitelaw) is not present to chaperone them, Etienne proposes marriage. They have a baby, Tania, while he is fighting in World War II. Sadly, he dies in the Battle of El Alamein. Six months later, Violette is summoned to the pensions department to see Potter(Sydney Tafler) who asks her if she would like a pension of her own as a liaison to the French resistance... ...and that's where "Carve Her Name with Pride"(based on a true story) should have started. The movie tries to infer that Violette is motivated to volunteer by Etienne's heroism but I feel she would have done so anyway because World War II was a time when ordinary people were called on to do extraordinary things for their country. Rather, I think the movie is structured this way to establish without a doubt the baby was not born out of wedlock(Quelle horreur!) and to set up the emotional payoff, allowing the movie to unfortunately slide into being a cliched soap opera at times. From what I can see here, Violette was extraordinary but the movie, left in a conflicted position of not knowing what to do with a female action hero, was made at a time not long after women were told to return to the safety of their homes to be just mothers.
WOW! I ran across this gem quite by accident. While I think it could have used a bit more active editing for tightening up, this is one emotional roller-coaster of a viewing ride. Beautiful. And based on a true story.
If you are a fan of unique war movies, this is the one for you. An amazing story of true bravery and patriotism. I am instantly a Virginia McKenna fan.
Lanning : )
Super Reviewer
Solid filming of the story of a very brave ordinary woman and the chances she took for a cause she believed in. Excellent performances.
Carve Her Name with Pride Quotes
There are no approved quotes yet for this movie.