Casa de mi padre
(2012)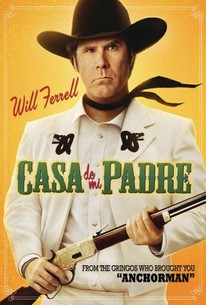 TOMATOMETER
AUDIENCE SCORE
Critic Consensus: Thinly written and not as funny as it needs to be, Casa de mi Padre would have worked better as a fake trailer or short film; stretched to feature length, it wears out its welcome far too quickly.
Movie Info
Armando Alvarez (Will Ferrell) has lived and worked on his father's ranch in Mexico his entire life. As the ranch encounters financial difficulties, Armando's younger brother Raul (Diego Luna) shows up with his new fiancée, Sonia (Genesis Rodriguez). It seems that Raul's success as an international businessman means the ranch's troubles are over as he pledges to settle all debts his father has incurred. But when Armando falls for Sonia, and Raul's business dealings turn out to be less than legit, all hell breaks loose as they find themselves in a war with Mexico's most feared drug lord, the mighty Onza (Gael Garcia Bernal). -- (C) Pantelion Films
Critic Reviews for Casa de mi padre
Audience Reviews for Casa de mi padre
Will Ferrell talking Spanish in a full non-English language movie?! I need see this!
Lucas Martins
Super Reviewer
Not clever. Not funny. Just Will Farrell, as usual.
Christian C
Super Reviewer
½
This Spanish language film, parodying Mexican telenovelas and westerns, is infamous for the simple reason that Will Ferrell plays the lead, having known no to little Spanish before filming. Not only is it a triumph for the simple reason that Ferrell lands every bit of accented dialogue, but it does as advertised, and that is to parody. Even if you are not acquainted with what exactly this film is pointing to for its laughs, the inspiration is adamantly represented in every scene. There are a couple of moments that make you chuckle, maybe a guffaw, but those are not directed at the source material. Most times the laughs come from moments of absurdity, quirkiness, and strangeness. What becomes much more interesting when watching the film is not the humor, but oftentimes the performance from Will Ferrell. Ferrell hasn't been taxed with giving a serious performance since his indie turn in "Everything Must Go" and strangely enough he gives yet another earnest performance here. Sometimes the dialogue gets grounded in the character's slow wit or some dumb one off joke, but clearly he has a passion and energy to the role that is very refreshing. If he is trying to parody a Mexican western, than he has done an outstanding job playing the underestimated cowboy, to a tee. Now, his involvement isn't actually necessary to the film, since his true ethnicity is never mentioned or made fun of. Maybe that's what makes his performance that much more interesting, since it isn't one of callous irresponsibility, showing a doofus in a saddle. There are many instances of strange set pieces, cheap animal effects, and even a apology from the second director in the midst of the film, which is probably the closest thing to an ode to "Monty Python and the Holy Grail" that I've ever seen. Though it wasn't funny in the regular Ferrell fashion there is something absurdly humorous about this, so at least I can defend it against those who don't see why it does elicit a chuckle here and there.
Spencer S.
Super Reviewer
Casa de mi padre Quotes
| | |
| --- | --- |
| Armando: | Let him die. He's missing a hand anyway |
| Armando: | Let him die. He's missing a hand anyway. |
| | |
| --- | --- |
| Onza: | Sonia, why are you sleeping with this dirty rancher? |
| Armando: | Stay away, or I'll beat you with these hands! |
| | |
| --- | --- |
| Miguel Ernesto: | You 're just like your mother, a big heart but simple. You cannot help me , I need someone smart, and if you were smart you would know that you are dumb. |
| | |
| --- | --- |
| DEA Agent Parker: | Do. You. Speak American? |
| Armando ALvarez: | No sir. I don't speak American. |