Case of Evil
(2002)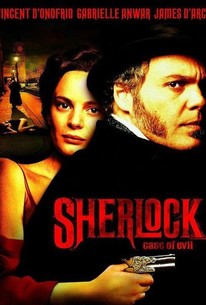 AUDIENCE SCORE
Critic Consensus: No consensus yet.
Movie Info
Another in a long line of "revisionist" Sherlock Holmes dramas, the made-for-cable Case of Evil offers a 28-year-old Holmes (James D'Arcy) who, in contrast with his later and more familiar persona, brashly brags about his deductive skills, egotistically basks in his fame and popularity, and drinks like a fish. But young Sherlock is in for a sobering and humiliating return to earth when he first crosses the path of Professor Moriarty (Vincent D'Onofrio), the "Napoleon of Crime." The brilliant but inexperienced Holmes not only fails to connect Moriarty with the murders of London's most notorious opium dealers, but even ends up falling into the clutches of the master criminal, who introduces the hapless detective to a relatively new and exotic drug known as heroin. Helping Sherlock put himself back together after his horrendous experience are his friend Dr. Watson (Roger Morlidge), his brother Mycroft (Richard E. Grant), and a comely young lady (Gabrielle Anwar) -- whose last name happens to be Doyle. The story is climaxed by a thrilling sword duel inside Big Ben (and never mind that the famous clock tower hadn't yet been built). Filmed in Romania, Case of Evil made its USA Network debut on October 25, 2002.
Audience Reviews for Case of Evil
½
Some truly terrible acting from all involved make this a real chore to watch, especially if you're more familiar with the excellent Jeremy Brett or the recent Downey Jnr versions. James D'Arcy is pretty appaling as Holmes (even Young Sherlock Holmes was better) but is not the worst thing here. Instead we have a camp Dr Watson and Anwar copying Heather Graham's performance from 'From Hell' and being even worse! D'Onofrio is usually quite reliable but he looks out of sorts here and can't really cope with the accent. It looks quite good (the sets are convincing) but there is a weird electronic score and there is a strong whiff of 'cheap' about the whole thing. The best thing is Richard E. Grant as Mycroft. His all too brief scene makes you wish that he'd played Holmes instead!
David Sayers
Super Reviewer
½
I found some things interesting in this reinterpretation of Holmes, but D'Onofrio was unintentionally funny as Professor Moriarty. Overall it just didn't hold together.
Marion Ravenwood
Super Reviewer
Case of Evil Quotes
There are no approved quotes yet for this movie.