Cashback
(2007)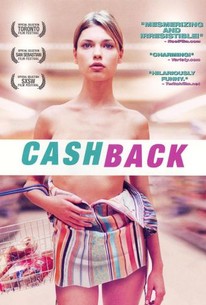 Movie Info
When art student Ben Willis is dumped by his girlfriend Suzy, he develops insomnia. To pass the long hours of the night, he starts working the late night shift at the local supermarket. There he meets a colorful cast of characters, all of whom have their own "art" in dealing with the boredom of an eight-hour shift. Ben's art is that he imagines himself stopping time. This way, he can appreciate the artistic beauty of the frozen world and the people inside it--especially Sharon, the quiet checkout girl, who perhaps holds the answer to solving the problem of Ben's insomnia.
News & Interviews for Cashback
Critic Reviews for Cashback
Audience Reviews for Cashback
What a dumb movie. Not sure if the director is trying to be 'artistic' or if he's just a massive pervert. The latter is probably correct. It's a film with boring characters, pointless scenes (especially the soccer one), and terrible attempts at humor (the nude guy farting). It's a waste of time. I don't watch films to see how artistic they are, I watch them for entertainment like most people. What makes a film entertaining is a good plot and likable characters. Not the case here.
Eric Shankle
Super Reviewer
Director Sean Ellis made an 18 minute short film in 2004 that won a plethora of International awards and received an Oscar nomination. Because of this, he decided to expand it to feature length and delivers a delightful little independent film. Young artist Ben Willis (Sean Biggerstaff) breaks up with girlfriend Suzy (Michelle Ryan) which leads to him developing insomnia. As sleep is hard to come by, he takes on a night-shift at the local supermarket where he develops ways to alter time and indulge in his artistic imagination. The best way to describe this film lies in a direct quote from the protagonist himself; "Within this frozen world I'm able to walk freely and unnoticed. Nobody would even know that time has stopped. And when it started back up again, the invisible join would be seamless except for a slight shudder. Not unlike the feeling of somebody walking over your grave". And so begins, the journey of insomniac Ben Willis who stops time and undresses women to paint and sketch their female form. This is an imaginative and thoroughly rewarding little film from a promising new director. The New York Post compared Sean Ellis to "Clerks" director Kevin Smith, if he had "... a background in poetry and painting instead of Comic-books and bestiality jokes". It's a good comparison as this film is as fresh and engaging as Smith's earlier work. However, it's also a prime example of how films can be almost completely buried if it doesn't receive the right marketing campaign. Such a shame, that this hasn't gained a wider audience. It's a cleverly constructed and stylish debut with sharp dialogue and genuinely touching and hilarious moments. Ellis is a director that has now caught my attention and he draws excellent performances from a relatively unknown cast. The only apparent problem is over-length. To go from an 18min short to a 100min feature is a bit of a stretch and as a result, the film meanders toward it's conclusion. However, this is a small gripe in what is otherwise an inventive and sophisticated little drama. Skilfully handled by everyone involved and the kind of film that warrants more attention. A vastly underrated little gem.
Mark Walker
Super Reviewer
½
This film has recently enjoyed a renewal of interest, and is swiftly becoming a cult classic with a loyal following. Based off a short Ellis made, and won an Oscar for, he has expanded it and made an independent film that has changed the look of the genre. Good independent films, especially comedies, happen once in a long while, and they usually get the stuffing kicked out of them by critics. It's the audience that makes these films rise in prominence, and that's thanks to the ones who scour the festivals and write the reviews that give these films sufficient attention. Why am I putting so much emphasis on this fact? Because Cashback varies throughout, and though cute, stays on that fine line between obnoxious and highly original. It has the fairy tale sweetness of magic realism by enabling the main character to possess the ability to freeze time while also falling in love with his co-worker. It is about love, about understanding a relationship, about analyzing time and how your actions affect it. The characters are interesting, the plot stays plausible if not magical, and the writing is executed with an ear for the cute and cuddly, while retaining a human dignity for the main character, who has just ended a relationship that used to mean the world to him. Besides the fact that there is an air of disillusionment around Ben (Biggerstaff), I didn't really believe the bond between him and the cashier (Fox) who seamlessly fall in love in a millisecond. I could see some attraction based on mutual isolation from society and both of them being hopeless when it comes to love, but true love? I don't see that dynamic working out. Also, a lot of loose threads wound together. The best friend is added only as a token character, the boss is arrogant yet lacking in the film, and there are characters that appear just long enough to confuse and delay the ending. Beside those inconsistencies, I really enjoyed the light comedy and the sadness that effortlessly comes off Ben, who owns this film by being adorably tragic.
Spencer S.
Super Reviewer
Cashback Quotes
| | |
| --- | --- |
| Sharon Pintey: | Hi Ben...will you be my date? |
| | |
| --- | --- |
| Ben: | The bad news is that time flies. The good news is that your the pilot. |
| | |
| --- | --- |
| Ben: | Once upon a time I wanted to know what love was.Love is there if you want it to be. You just have to see that it's wrapped in beauty and hidden away between the seconds of your life. If you don't stop for minute, you might miss it. |
| | |
| --- | --- |
| Ben: | The female form has always been a great source of inspiration. |