Casper: A Spirited Beginning
(1997)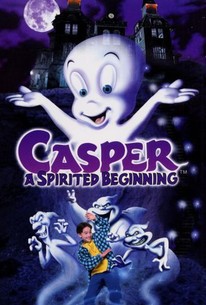 Casper: A Spirited Beginning Photos
Movie Info
Everyone's favorite friendly ghost Casper returns in this family-oriented video release. The voices of James Earl Jones, Michael McKean, Steve Guttenberg and Rodney Dangerfield add depth to the collection of supernatural characters that will delight children from 5 to 10 years of age.
Critic Reviews for Casper: A Spirited Beginning
All Critics (5) | Fresh (0) | Rotten (5)
Taking place in a scary netherworld where up is down, black is white, and Steve Guttenberg, Rodney Dangerfield, Lori Loughlin, Pauly Shore, and Richard Moll still have careers.
Audience Reviews for Casper: A Spirited Beginning
I only watched this because it went along with the other two Casper movies, but it's a prequel, most prequels aren't good, and this is no exception. It has a bit of the charm from the first two, but overall it's just so-so.
½
"Casper - A Spirited Beginning" isn't anything like the first Casper movie and it isn't as good, but it's still a good movie in its own way. In this movie, Casper befriends a 10-year-old boy who believes in ghosts. The boy is the only person that's not scared of Casper, so they become best friends. The bad thing is that the boy's father is real busy and never seems to pay attention to his son, and the worst of all, the father has a plan to tear down an old haunted mansion so the town can have a new shopping center. However, nobody seems to like the idea of getting rid of the old mansion. "Casper - A Spirited Beginning" is a good movie in most ways. Casper and the same 3 ghosts that were in the first Casper movie are back in this one along with a bunch of new ghosts including one that looks like a huge version of Slimer from The Ghostbusters. "Casper - A Spirited Beginning" has an interesting plot, parts of it are funny, and it has good animated effects such as an old graveyard and a train with a skull on the front of it. If you like Casper movies, I recommend getting "Casper - A Spirited Beginning." It's a new beginning to a new kind of Casper movies, and it's good. NOTE: That was my Amazon review from the year 2000.
Jason Owens
Super Reviewer
Casper: A Spirited Beginning Quotes
There are no approved quotes yet for this movie.