Casque d'Or
(1952)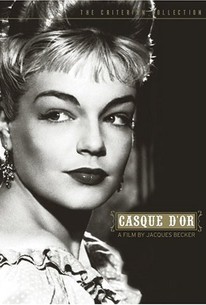 Movie Info
The Paris demimonde of 1900 is the setting for Casque d'Or. Georges Manda (Serge Reggiani), an honest woodworker, falls in love with Marie (Simone Signoret), the "moll" of minor crook Roland (William Sabatier). Gangster boss Felix Leca (Claude Dauphin) orders Georges and Roland to fight a duel to the death over the girl, as prescribed by the "code of the apache." Felix then pins the blame for Roland's death on Georges' boyhood chum, Raymond (Raymond Bussières), knowing that the woodworker will nobly accept the blame; this will leave Marie alone, which is what the lustful Felix has wanted all along. When Georges learns he's been set up as a dupe, he escapes from the police and kills Felix. Casque D'Or was based on the true-life Leca-Manda scandal, wherein an otherwise decent man was guillotined for shooting down a gangster boss in broad daylight. Since the scandal was common knowledge in France, the downbeat ending of this film was hardly unexpected but still extremely moving. Completed in 1951, Casque D'Or was a failure on its first release but then built up an excellent word-of-mouth reputation abroad. The film was released in the U.S. in 1956 as Golden Marie.
Critic Reviews for Casque d'Or
Audience Reviews for Casque d'Or
½
simone signoret causes a whole lotta trouble but she's down for her man. the second impressive becker crime film i've seen. based on a true story, with old fashioned tragic romance that's not sappy and wonderful evocation of the demimonde in la belle époque
Stella Dallas
Super Reviewer
[font=Century Gothic]"Casque D'or" starts out on an idyllic summer day as a group of friends make their way to a tavern via boats. While there, one of them, Raymond(Raymond Bussieres) recognizes an old pal from prison, Jo(Serge Reggiani), who has since gone straight as a carpenter and is at the tavern with his boss. Raymond introduces Jo to his friends, one of whom is the beautiful Marie(Simone Signoret). Jo and Marie share a dance but this makes her fellow, Roland(William Sabatier), immensely jealous and he confronts Jo. But Jo clocks him before making his exit.[/font] [font=Century Gothic][/font] [font=Century Gothic]These men are all part of a criminal gang headed by Felix Leca(Claude Dauphin), a crime boss with delusions of respectability. He sees that the altercation at the tavern could lead to waves in his finely tuned organization. So, he asks Marie to choose between the two men by that night...[/font] [font=Century Gothic][/font] [font=Century Gothic][/font] [font=Century Gothic]"Casque D'or" starts slowly but gets better as it goes along and builds towards a powerfully emotional climax. The movie explores the notion that we are all free and cannot be owned by others. Therefore, it is ironic that most of the characters are thieves.[/font]
Casque d'Or Quotes
There are no approved quotes yet for this movie.