Cast Away
(2000)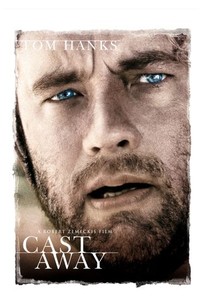 TOMATOMETER
AUDIENCE SCORE
Critic Consensus: Flawed but fascinating, Cast Away offers an intelligent script, some of Robert Zemeckis' most mature directing, and a showcase performance from Tom Hanks.
Movie Info
An exploration of human survival and the ability of fate to alter even the tidiest of lives with one major event, Cast Away tells the story of Chuck Noland (Tom Hanks), a Federal Express engineer who devotes most of his life to his troubleshooting job. His girlfriend Kelly (Helen Hunt) is often neglected by his dedication to work, and his compulsive personality suggests a conflicted man. But on Christmas Eve, Chuck proposes marriage to Kelly right before embarking on a large assignment. On the assignment, a plane crash strands Chuck on a remote island, and his fast-paced life is slowed to a crawl, as he is miles removed from any human contact. Finding solace only in a volleyball that he befriends, Chuck must now learn to endure the emotional and physical stress of his new life, unsure of when he may return to the civilization he knew before. Cast Away reunites star Hanks with director Robert Zemeckis, their first film together since 1994's Oscar-winning Forrest Gump. ~ Jason Clark, Rovi
News & Interviews for Cast Away
Critic Reviews for Cast Away
Audience Reviews for Cast Away
So Tom Hanks plays a real go-getter who gets stuck on a desert island. Okay. Then what? Well the opening sequences are good, as he learns to feed himself, to survive, but the ultimate rationale for the whole piece is how he handles the idea that he might be there forever, and this Zemeckis decides to keep off camera. Why? I don't know. It simply skips that part. We rejoin our hero as, reenergized, he decides to risk it all to save himself. But it could've been a better film, an examination of why we choose life (as opposed to life simply choosing us). I had the feeling Zemeckis kept the core of the piece to himself. Still, it's watchable, if anticlimactic.
Kevin M. Williams
Super Reviewer
½
Hanks is Zemeckis' Jimmy Stewart.
Graham Jones
Super Reviewer
½
The best island story I had saw since the french tv movies Robinson Crusoe with Pierre Richard
Lucas Martins
Super Reviewer
Cast Away Quotes
| | |
| --- | --- |
| Chuck Noland: | We both had done the math. Kelly added it all up and... knew she had to let me go. I added it up, and knew that I had... lost her. 'cos I was never gonna get off that island. I was gonna die there, totally alone. I was gonna get sick, or get injured or something. The only choice I had, the only thing I could control was when, and how, and where it was going to happen. So... I made a rope and I went up to the summit, to hang myself. I had to test it, you know? Of course. You know me. And the weight of the log, snapped the limb of the tree, so I-I - , I couldn't even kill myself the way I wanted to. I had power over *nothing*. And that's when this feeling came over me like a warm blanket. I knew, somehow, that I had to stay alive. Somehow. I had to keep breathing. Even though there was no reason to hope. And all my logic said that I would never see this place again. So that's what I did. I stayed alive. I kept breathing. And one day my logic was proven all wrong because the tide came in, and gave me a sail. And now, here I am. I'm back. In Memphis, talking to you. I have ice in my glass... And I've lost her all over again. I'm so sad that I don't have Kelly. But I'm so grateful that she was with me on that island. And I know what I have to do now. I gotta keep breathing. Because tomorrow the sun will rise. Who knows what the tide could bring? |
| | |
| --- | --- |
| Chuck Noland: | I'm so sad that I don't have Kelly. But I'm so grateful she was with me on that island. |
| | |
| --- | --- |
| Bettina Peterson: | You look lost. |
| Chuck Noland: | I do? |
| Bettina Peterson: | Where you heading? |
| Chuck Noland: | Well, I was just about to figure that out. |
| | |
| --- | --- |
| Chuck Noland: | Now I know what I have to do now. I gotta keep breathing because tomorrow the sun will rise. Who knows what the tide could bring? |