Casting By
(2013)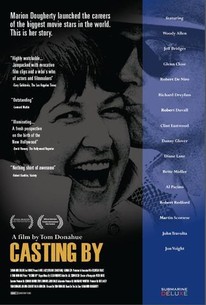 Movie Info
"Outstanding" - Leonard Maltin; Combining over 240 interviews, extensive archival footage, animated stills & documents with a moving original score, Director Tom Donahue has meticulously crafted the untold tale of the Hollywood casting director. CASTING BY is a celebration of the profession, highlighting its previously unsung role in film history while also serving as an elegy to the lost era of the New Hollywood. The documentary focuses on pioneer Marion Dougherty, an iconoclast whose exquisite taste, tenacity and gut instincts brought a new kind of actor to the screen that would mark the end of the old studio system and help to usher in this revolutionary new period. The film skillfully draws a line through the last half century to show us the profession's evolution from studio system type-casting to the rise of large ensemble films populated with unique and diverse casts. The interviewees are a Who's Who of Hollywood legends including Martin Scorsese, Woody Allen, Clint Eastwood, Glenn Close, Robert Duvall, Jeff Bridges, Al Pacino, Robert De Niro, Diane Lane, Jon Voight, Danny Glover, Bette Midler, John Travolta and countless others. (c) Official Facebook
News & Interviews for Casting By
Critic Reviews for Casting By
Audience Reviews for Casting By
A fascinating look at an approach to casting by looking at some of the giants of the field, one that does not get its due nor is properly appreciated as a vital piece of the film making process. Where it falters somewhat is in its dismissing of the previous studio system of selecting actors who they had under contract. It was imperfect for sure but resulted in many classics so obviously something about it worked, though to hear about it here it was a worthless and completely counter productive to proper casting.
A film that finally highlights the importance of casting directors to the process of landing the right actors in the right films. What would actually be more interesting would be to weigh their choices against who they could have cast in roles that would have been better but that is a quibble. Long overdue recognition.
John Ballantine
Super Reviewer
½
I saw this at the 2013 Cleveland International Film Festival. If you are a film buff like me, you will probably get a thrill just from hearing the anecdotes and seeing some clips of famous actors in their first TV or film appearances. Both sides of the argument are presented as to whether a casting director is a director or something else. How much creative influence do they have on the final product? After a quick look at the old studio system and casting to "type," this doc turns its attention to Marion Dougherty. She worked in New York and started casting for television around the same time that the Method was becoming popular with actors. Rather than looking for "stars," she searched for actors who had range and could develop a whole character. Lynn Stalmaster became a kind of counterpart to Dougherty on the west coast until Marion also moved to Hollywood to make it in the movies. There was one graphic that was used that seemed especially befitting. Marion's casting agency was the trunk of a tree that grew many many seeds, meaning it gave dozens of other women their start in a career of casting. There was a sad note that despite massive support, Marion Dougherty was never awarded a special Oscar by the Academy. Lots of behind the scenes stories and a really enjoyable documentary.
Byron Brubaker
Super Reviewer
Casting By Quotes
There are no approved quotes yet for this movie.