Das Schloß (The Castle)
(1998)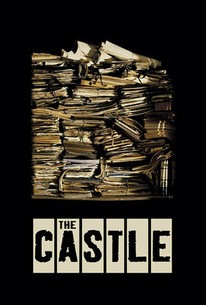 AUDIENCE SCORE
Critic Consensus: No consensus yet.
Das Schloß (The Castle) Photos
Movie Info
From director Michael Haneke, THE CASTLE is both an engenious, perversely faithful interpretation of the master of alienation's novel, and a worthy companion to The Piano Teacher, Cache, and other films.
Audience Reviews for Das Schloß (The Castle)
Haneke has never been the most easily accessible director and he doesn't break that trend here, he just further alienates.
Marcus Woolcott
Super Reviewer
"The Castle" starts with K.(Ulrich Muhe), a land surveyor, arriving in a small town one night to start work for the local castle. The only room in the inn is a spot on the floor. Regardless, he sleeps well until woken by Barnabas(Andre Eisermann), the castellan, who informs him that he will need permission from the castle to stay. Thankfully, that is quickly rectified to the satisfaction of K. And soon, Artur(Frank Giering) and Jeremiah(Felix Eitner), his filthy assistants, arrive but without the requisite equipment. At least, K. can get a drink at the local beer hall where he catches the friendly eye of Frieda(Susanne Lothar), the barmaid. In this adaptation of Franz Kafka's classic absurd novel, Michael Haneke gets certain things perfectly right, like the overall tone and the cadence of speech, aided by copious selections from the source material. That's not to mention the excellent performances. However, Haneke brings nothing visually to the table and is otherwise limited by his own success as a writer, as the same fidelity eventually works against the movie as it falls into the same trap as K.(symbolizing modernity against a feudal society) does in endlessly searching for such comforts as a job, a place to live and somebody to be with. While K. is constantly at the mercy of functionaries, known and unknown, the viewer loses track of who is who in this labyrinthine tale before it all just comes to a halt. And unless it is a Danny Kaye routine, that is not a lot of fun for anybody.
½
This Movie From Kino Video was part of the Toronto International Film Festival, Its a strange movie as many are from Kino Video. A man is hired to survey the castle but is given the run around and not allowed on Castle grounds. I for one found it boring and senseless. But worth more then 1 star so I gave it 1 1/2 stars. Don't waste your time like I did.
Bruce Bruce
Super Reviewer
Das Schloß (The Castle) Quotes
There are no approved quotes yet for this movie.