Castle in the Sky
(1989)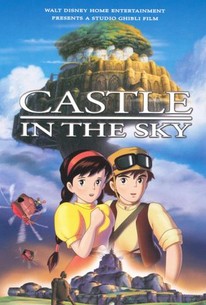 Movie Info
A young boy and a girl with a magic crystal must race against pirates and foreign agents in a search for a legendary floating castle.
Critic Reviews for Castle in the Sky
Audience Reviews for Castle in the Sky
½
Miyazaki is a versatile artist who can make just as many thought-provoking stories as lighter ones. This one ranks among the latter, a very delightful animation that has its share of sillier moments but makes up for them with a lot of fun and adventure.
Carlos Magalhães
Super Reviewer
The best action-oriented Miyazaki film and the first to be produced under the legendary Studio Ghibli. The animation is incredibly-detailed and the action is some of the most exhilarating ever put into an animated feature. The steampunk world the character's occupy is incredibly imaginative and fascinating. Combined with a great story along with fun characters, and this delightful treat for all ages is easily one of Miyazaki's best efforts.
Christopher Heim
Super Reviewer
"Castle in the Sky" is considered to be the first ever film released from this filmmaker (Hayao Miyazaki) and to be perfectly honest, it's a sheer masterpiece in storytelling and in it's visuals. There were portions that actually made me tear up, just listening to the music along with the scenery, which was brilliant beyond belief. The American voice acting fits very well into the Dubbed version and the overall atmosphere is just so loveable. Many films have definitely been influenced by this, and I would be shocked if they denied that, because the filmmaking (mostly in post) is breathtaking. I have absolutely no complaints about this film whatsoever. It is funny, well written, well directed, and beautifully animated. With no flaws in sight, this film is incredible!