Castle of Blood (Danza macabra)(Coffin of Terror)(Dimensions in Death)(Tombs of Terror)
(1964)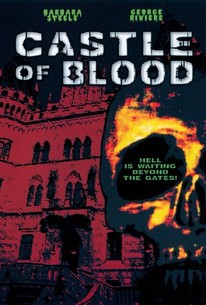 AUDIENCE SCORE
Critic Consensus: No consensus yet.
Castle of Blood (Danza macabra)(Coffin of Terror)(Dimensions in Death)(Tombs of Terror) Photos
Movie Info
In this eerie and effective early horror film from prolific genre director Antonio Margheriti, Alan Foster (Georges Riviere), an American tourist visiting England, takes a bet from a Lord Blackwood and his guest, Edgar Allan Poe, to spend the night in a haunted mansion. The rationalist Foster, who does not believe in the supernatural, is soon drawn into a world of ghosts and phantoms, doomed to eternally replay the horrifying murders that climaxed a long-ago love triangle. Foster also finds himself in love with one of the protagonists, the beautiful Elizabeth (Barbara Steele), and it is a love which ensures that he never leaves the haunted castle alive. It's a marvelously atmospheric gothic thriller, one of the best Italian horror films of the decade, and quite properly made the enchantingly spooky Steele -- fresh from Mario Bava's La Maschera del Demonio -- even more of a horror icon. Riccardo Pallotini's evocative camerawork enhances the mood tremendously, and the shock scenes, though perhaps too tame for modern audiences, are nonetheless strikingly effective. Margheriti remade the film in widescreen color eight years later (as Nella Stretta Morsa del Ragno), but this version remains one of the handful of definitive Italian gothics. Silvano Tranquilli co-stars with Margaret Robsahm, Henry Kruger, and Umberto Raho.
Critic Reviews for Castle of Blood (Danza macabra)(Coffin of Terror)(Dimensions in Death)(Tombs of Terror)
Audience Reviews for Castle of Blood (Danza macabra)(Coffin of Terror)(Dimensions in Death)(Tombs of Terror)
½
A haunted castle with all the trappings. Eerie fog. Dense cobwebs. Human skulls. Dead lesbians.
Randy Tippy
Super Reviewer
5.7/10 I absolutely adore Gothic Horror when it's done right, and in terms of historical films, it almost always is. The 1960's weren't all that bad for horror, especially when there are movies as great as "Psycho" and as good as "Black Sunday". If you liked either of those two films, then you might just want to check out the film I am reviewing, which is called "Castle of Blood". It's an entertaining work of Gothic Horror that I believe some will adore; not only for the work that goes on her narratively and thematically, but also because of the sheer atmosphere and style exercised. I can't say I recommend this film, although I do have a great level of respect for it. It is what it is; a solid Gothic Horror flick that isn't chock-full of spectacular or unforgettable imagery. I was open to either liking it or loving it, but alas it feels sort of underwhelming. It's a familiar movie with a familiar set-up. I didn't expect to love it, and it's good to see that in spite of its unoriginality, it doesn't stink to high heaven. However, there are things to like and things to dislike; and they both come in almost equal amounts. The good might just defeat the bad, in some cases. Man bets that he can stay a night in a local haunted house and live. He places this bet with Edgar Allen Poe himself. Man goes to house. Man meets a beautiful spirit (Barbara Steele). Man is in for a night of pure hell, in which he discovers many things, one of them including his connection with the spirits who refuse to rest in this castle. The narrative is simplistic, and right there I might as well have described enough. There have been films before this one to expand upon such a premise, and there are also better films too. Maybe you should see those films first. That's not to say that I don't like "Castle of Blood". It's a pretty decent flick. It's just not one that I would watch again with glee, although if I absolutely had to, it would be entertaining if not disappointing all over again. What I liked about "Castle of Blood" were the simple things. The acting is solid, and Ms. Barbara Steele is gorgeous. If you're as big of an admirer of the actress as I am, then maybe you should see this. After all; Barbara Steele might as well be all you can possibly ask for when it comes to movies like these, even if they are, as I said, not as good as they want to be. However, a movie this well-made, perhaps did not need to be made at all. The story gives us little reason to be involved, aside from the great little atmospheric moments involved. In short, there is great direction going on here; just not great story-telling, character building, or anything else particularly worth mentioning, or remembering. But if you're looking for a couple good spooks and scares at night, then "Castle of Blood" is competent entertainment for the horror lover in you. It's not a bad horror film, like "Friday the 13th", and it's not a good one, like "The Texas Chainsaw Massacre". But it is a decent one, and really, that must count for something.
Ryan Marshall
Super Reviewer
Pretty good 1964 Movie, about a writer who while sitting and talking with Edgar Allen Poe in England accepts a bet from another man in the room to spend the night in his castle, the Castle of Blood on all souls night when the dead shall rise at midnight and live again by seeking the blood of those who are alive. For 1964 its worth every bit of 4 stars.
Bruce Bruce
Super Reviewer
Castle of Blood (Danza macabra)(Coffin of Terror)(Dimensions in Death)(Tombs of Terror) Quotes
There are no approved quotes yet for this movie.