Casualties of War
(1989)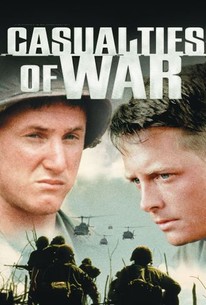 TOMATOMETER
AUDIENCE SCORE
Critic Consensus: Casualties of War takes a harrowing plunge into the Vietnam War with a well-acted ensemble piece that ranks among director Brian De Palma's more mature efforts.
Movie Info
Casualties of War was based on a New Yorker article by Daniel Lang. This, in turn, was inspired by a true incident which illustrated the dehumanizing aspects of the Vietnam experience. Michael J. Fox plays Eriksson, a member of an American squadron stationed in the deepest jungles of Southeast Asia. Sean Penn co-stars as Meserve, the squadron sergeant, who vows revenge after his best friend is killed. He orders his men to invade a village and "requisition" a young Vietnamese girl (Thuy Thu Lee), who is repeatedly tied, gagged and gang-raped. The horrified Eriksson refuses to participate in these atrocities, and he does his best to console the girl and to attempt to free her. Before this can happen, however, Meserve orders another man to kill the girl. Once he returns to camp, Eriksson attempts to file a report on the tragedy and to bring Meserve and the others to justice, but he is stonewalled by the brass and threatened with death by his fellow soldiers. Eventually Meserve and his co-conspirators are jailed for their crimes, but Eriksson can never forget his "compliance" in the incident by failing to save the girl. The script is by well-known playwright David Rabe.
News & Interviews for Casualties of War
Critic Reviews for Casualties of War
Audience Reviews for Casualties of War
½
DePalma's epic war film explores the dark sides of men in combat and features many outstanding performances.
Graham Jones
Super Reviewer
Based on actual events, this is a gripping examination of of a squad of soldiers who find themselves heavily embroiled in the moral quagmire of the Vietnam War. ed PFC Eriksson (Michael J. Fox) is an idyllic soldier new to the territory. He's soldiering with a squad of hardened men lead by the young but volatile Sgt. Tony Meserve (Sean Penn). After Meserve's best friend is killed, he vows revenge. Part of that process involves going to a village to kidnap a girl whom he belives is allied with the VC. His intention is to use her as "mobile R & R". Eriksson is horrified by this, but is outvoted, and looks on in horror and disgust as his squad (which includes debuts from John C. Reilly and John Leguizamo) brutally treats, rapes, then kills the girl. Despite risk of severe retaliation, and the indifference of his superiors (Ving Rhames and Dale Dye), Eriksson is determined to bring his fellow soldiers to justice. It seems inevitable that most if not all of the New Hollywood directors have made a war film, specifically one concerning Vietnam. This is Brian DePalma's entry in that category, and, it's quite good. It lacks a lot of his overt cynicism and gimmickry, focusing instead on heavy themes and character. Don't get me wrong, there's some great camera work, a wonderful look, and a strong score from Ennio Morricone, but this is mostly a showcase from DePalma playing it straight. There's nothing wrong with that either, because it's a pretty solid film. Yes, the film does get a little too sappy and sentimental towards the end, maybe a bit too feel good, bt it's mostly earned. Also, Fox is quite compelling and convincing, but I think he was perhaps too pure of a character. He's still good though, and really sympathetic. As good as he is though, he of course gets overshadowed by Sean Penn. Penn, as expected is fiercely intense, unhinged, and memorable. The aforementioned supporters are all pretty decent, too, giving hints of greater things to come. All in all, this is a really good film, and you should check it out. Yeah, it is flawed, but even then it's still pretty worthwhile.
Chris Weber
Super Reviewer
½
Imagine A Clockwork Orange in vietnam, a shocking and tense war film. The most serious picture with Michael J. Fox. Casualties of War is also one of the best DePalma's moments.
Lucas Martins
Super Reviewer
Casualties of War Quotes
There are no approved quotes yet for this movie.