Cat Ballou
(1965)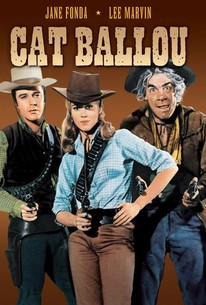 Movie Info
This western spoof tells the story of a tough schoolmarm who becomes a gunslinger to avenge the death of her father. Knowing the killer to be a formidable foe, she hires his twin brother, a drunken lout barely able to stand up, let alone hold a gun.
Critic Reviews for Cat Ballou
Audience Reviews for Cat Ballou
½
Most review this film simply as a film and that's certainly a legitimate way to go, all things being equal, but it misses the context of the times it was created in. In 1965 a something happened that shook the world and that something we forget or take for granted: the realisation that not everyone was free. In those days there was a riot waiting to happen behind that thought depending on what side of the street one stood on. This film imagines what life might be like otherwise and therein is its importance. So there's a woman outlaw, a Native American compadre, black and white balladeers leading the narrative, and a drunk trying to reclaim his life: all losers societally, bound together to change their lives, an American tale then. And then there's the story. The story ... eh, generic Western. But the rest carries the idea, if not perfectly, of freedom from the presumption of what role lives ought to be. "I choose my life!", but played for cute, for laughs, lightheartedly.
Kevin M. Williams
Super Reviewer
A schoolteacher hires a gang of misfits to revenge her slain father. Maybe I just don't like Westerns ... or comedies. I found all of the jokes flat and all the gags ludicrous. I chuckled once: "He did it! He missed the barn!" Lee Marvin's performance is good. He plays his typical hard-ass role, and he satirizes himself playing the drunken good guy. The film doesn't say much. There isn't a lot in the way of femme power, but Jane Fonda isn't incredibly compelling. Tom Nardini's token Native character isn't as offensive as most Western portrayals of Native characters, but the line "It wasn't me that did that to Custer" implies that Natives are generally evil, but this one isn't (never mind that Custer had it coming to him, that blond-haired, blue-eyed criminal fuck). Overall, fans of Westerns might like this comedy, but I'm everything but a fan of Westerns.
Jim Hunter
Super Reviewer
½
Somewhere inside of Cat Ballou is a great movie trying to get out. With a rarely more beautiful Jane Fonda (see the scene towards the end in the red dress) and a great comedic dual role from Lee Marvin this movie begs to be noticed. But all the other shit driving me away was the problem. Let's start with the whole Nat King Cole and Stubby Kaye thing -- STOP! If the songs are actually serving some purpose to move the story forward, fine but if they're just pissing people (namely me) off cut the crap. Then the chemistry between Fonda and Michael Callan was non-existent along with most of the jokes. And were there really natives who spoke Yiddish? Were there really?
Michael Gildea
Super Reviewer
Cat Ballou Quotes
| | |
| --- | --- |
| Cat Ballou: | Some gang! An Indian ranch hand, a drunken gunfighter, a sex maniac, and an uncle! |
| | |
| --- | --- |
| Jackson Two-Bears: | Kid, Kid what a time to fall of the wagon. Look at your eyes. |
| Kid Shelleen/Tim Strawn: | What's wrong with my eyes? |
| Jackson Two-Bears: | Well, they're all red, bloodshot. |
| Kid Shelleen/Tim Strawn: | You ought to see 'em from my side. |
| | |
| --- | --- |
| Clay Boone: | He did it. He missed the barn. |