The Cat's Meow
(2001)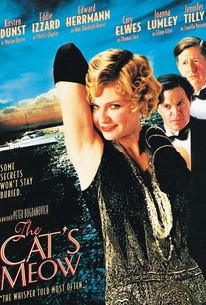 Movie Info
The year is 1924 and billionaire publisher William Randolph Hearst (Edward Hermann) has arranged a birthday cruise aboard his yacht, Oneida, for financially distressed film pioneer Thomas H. Ince (Cary Elwes). But trouble is in the air, for among the guests is Charlie Chaplin (Eddie Izzard), who intends to steal Hearst's mistress, the actress Marion Davies (Kirsten Dunst), right from under his nose. As the Oneida sails into the deep waters of the Pacific, the jealous Hearst struggles to suppress murderous thoughts amid unfettered merrymaking and the propositioning of gold diggers. When Ince discovers a love letter from Chaplin, he believes it is the key to a golden future in Hearst's production company, Cosmopolitan Pictures; but revealing the document leads to an unfathomable tragedy. Based on a true incident once related to director Peter Bogdanovich by Orson Welles, this story was originally intended as part of Citizen Kane but was eventually omitted from the landmark film.
Critic Reviews for The Cat's Meow
Audience Reviews for The Cat's Meow
Went for it just because it's based on true events. Turns out it's based on rumors. No problem. Was surprised to learn that Chaplin was so scandalous. The story was not so so-so, but the performances and casting were. Historically, if the given version is correct, it's quite significant in depicting the height of corruption. As to me, I really don't know. If he's shot, why didn't anyone come forward even after Hearst's death? If he wasn't, why the characters involved got a promotion soon after it. It surely was given a touch of a cover up. The movie doesn't tend to explain it, it simply presents (modification of) one of the versions of this mysterious event. Could have been way better.
familiar stranger
Super Reviewer
Gawd this is a boring film. Hearst and Chaplin were probably rolling over in their graves at their portrayals in this film. Neither of them were particularly interesting to hang out with. Kirsten Dunst portrays annoying as no one else can.
John Ballantine
Super Reviewer
Quirky and entertaining, The Cat's Meow is a captivating period film about a fascinating piece of Hollywood lore. Inspired by true events and based on a play, the story attempts to unravel a notorious Hollywood murder that supposedly occurred aboard the yacht of wealthy media tycoon William Randolph Hearst in 1924. Kirsten Dunst, Edward Herrmann, Eddie Izzard, and Cary Elwes form a solid cast and give good performances. Additionally, the makeup and costumes are especially well-done, and give an authentic look and feel to the film. However, the storytelling is poor and gets a little lost in itself. The Cat's Meow is an intriguing murder mystery, but there are some problems with the execution.
Dann Michalski
Super Reviewer
The Cat's Meow Quotes
There are no approved quotes yet for this movie.