Cavalcade
(1933)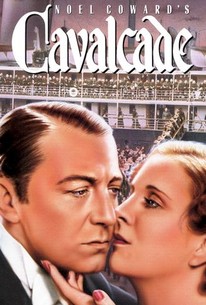 Movie Info
Winner of Oscars for Best Picture, Best Director and "Interior Design," this is a period piece with excellent ambiance. Tracing the lives of two British families from the beginning of the century through 1930, this adaptation of Noel Coward's successful stage play successfully portrays families sticking together through thick and thin. Weathering the death of Queen Victoria, WWI and the depression, the families make adjustments according to their circumstances, but the movie leaves a sharply anti-war taste with the viewer as the families' peaceful way of life is changed forever by the circumstances of a changing world.
Critic Reviews for Cavalcade
Audience Reviews for Cavalcade
Almost no one remembers the film today. Still, it's noteworthy to be reminded that sometimes, yesterday's news is worth looking at again. Cavalcade tells the "Upstairs/Downstairs"-style story of two British families across the years from December 31, 1899 to December 31, 1932. The "Upstairs" clan members are the Marryots: father Sir Robert (Clive Brook), mother Lady Jane (Diana Wynyard), and sons Edward (John Warburton) and Joe (Frank Lawton). The "Downstairs" family consists of manservant Alfred Bridges (Herbert Mundin), his wife, maid Ellen (Una O'Connor), and their daughter, Fanny (Ursula Jeans). It is a tale of joy and woe, chiefly concerned with the experiences of Robert Marryot and his wife, Jane, and embracing what happens to their children and their servants. As the movie opens, both Robert and Alfred are preparing to fight in the Second Boer war. Both distinguish themselves in combat. Upon their return, Robert is knighted and Alfred is able to leave service and set himself up as the owner and operator of a London pub. Albeit there are simply too many characters to keep track, yet just give a film a chance by watching it more than once is the way to go. And while there's a certain reactionary quality to some of the film's material, the movie's overriding thrust is very effectively anti-war. The story is more concerned with the potential of death than it is with actual tragedy - how those left behind live in a constant state of anxiety, never knowing if their loved one is going to appear on a casualty list. (One of the most moving scenes occurs when Jane and Ellen go to a central location to read the names of the latest dead and wounded soldiers.) The movie also touches upon the common theme of how wasteful and irrational war is - it is referred to as a way for men to earn their stripes and for nations to flex their muscles. Inasmuch as modern audiences have often found the film stilted and overacted, one critic reckons that when seen today, Cavalcade is best viewed from a historical perspective.
Cinema Films
Super Reviewer
Panarama of a family over many years is not a bad film but certainly not deserving of a Best Picture Oscar.
½
Boring! If they wanted to tell the audience what life was like at the beginning of the 20th century without an entertaining story, they should have made a documentary.
Cavalcade Quotes
There are no approved quotes yet for this movie.