The Caveman's Valentine
(2001)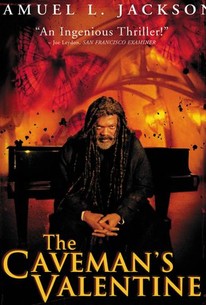 The Caveman's Valentine Photos
Movie Info
A man struggles back from madness to avenge the death of someone he knew in an intelligent thriller based on the acclaimed novel by George Dawes Green. Romulus Ledbetter (Samuel L. Jackson) once had a career as an acclaimed concert pianist, a position at the Juilliard School of Music, and a loving wife and children. But Ledbetter's life has been devastated by paranoid schizophrenia; now homeless, Ledbetter wanders the streets of New York City as he rails against Cornelius Gould Stuyvesant, a man whom he believes controls all the evil in the world while following his movements from a perch atop the Chrysler Building. Most nights, Ledbetter takes shelter in a cave in Central Park, earning him the nickname "the Caveman." One morning, Ledbetter discovers a frozen corpse caught in the branches of a tree near his cave; the body is that of Scotty (Sean MacMahaon), a homeless drug addict who was close friends with his pal Matthew (Rodney Eastman). Ledbetter is determined to get justice for Scotty, and he's also eager to prove himself to his daughter Lulu (Aunjanue Ellis), now a New York City police officer. While Ledbetter is at first convinced that his nemesis Stuyvesant is responsible for Scotty's death, in time he focuses on another suspect: David Leppenraub (Colm Feore), a famous photographer known for his controversial erotic images of young men, who occasionally hired Scotty as a model. As Ledbetter attempts to investigate Leppenraub's possible role in the murder, he soon gains an unexpected ally -- Moira (Ann Magnuson), a noted sculptor and Leppenraub's sister. The Caveman's Valentine marked the major-studio debut for director Kasi Lemmons, who made an impressive debut in 1997 with the independent drama Eve's Bayou.
Critic Reviews for The Caveman's Valentine
Audience Reviews for The Caveman's Valentine
Romulus Ledbetter: I got freezing temperatures all over my brain. And I got legends of angels up there! Like little moths, and they'll beat the hell out of you with their wings!  "Inside a tortured mind... The clues that lead to a killer." This weird crime thriller is just as schizophrenic as its character Romulus. I really don't know exactly what to think about it. As of now, all I really know is that I didn't enjoy it. I wasn't particularly thrilled by the story, nor was I enamored by the style. It was also maybe the first time I have seen Samuel L. Jackson in a movie, and didn't love his performance. His acting was more than just schizophrenic, it was off the wall and over the top. I'm guessing that's what the director wanted because the whole movie came off like that as well. It had all the makings to be a truly intelligent thriller. I liked the initial idea for the movie, but by the thirty minute mark, I was less then thrilled by what was going on. By the hour mark, I knew this wasn't going to be good. And by the hour and a half mark, I really just didn't care anymore.  Romulus is a genius musician who attended Juilliard. Now he lives in a cave in a New York City park. He's also crazy as fuck, seeing images and talking to his ex-wife like she is present. He also has a variety of crazy theories. When he finds a frozen corpse in a tree outside of his cave, he starts expressing what he thinks happened, to the police; one of which is his daughter. Obviously they think he is crazy. He decides to try to investigate what is going on by himself.  The Caveman's Valentine isn't an unwatchable movie, it's just one that I couldn't particularly get into and enjoy. I normally can enjoy these psychological, mind fuck movies, but this one was either too much or too little. I haven't really decided yet. I still can't really organize my thoughts on this one. Maybe I'll revisit it in a few years and I'll like it. Or maybe I will realize why I disliked it to the extreme of which I did, because normally like a movie or not; I know exactly why. This one... not so much.
Melvin White
Super Reviewer
½
Romulus Ledbetter: Sheila, what are you doing here? Sheila: Watching you make a fool of yourself. What are YOU doing here? Romulus Ledbetter: I have to prove Leppenraub is guilty. Sheila: Prove to who? Romulus Ledbetter: To the world. To... to Lulu. Sheila: Lulu needs a father, not some psycho Sherlock Holmes. A mystery featuring Samuel L. Jackson as a deadlocked, delusional, homeless man. The plot of the film is structured like a film noir, which means I get to use the phrase: Delusional Noir. The story is okay, but Jackson gives a fine performance. Bob: What do you play? Romulus Ledbetter: My skull. Jackson stars as Romulus Ledbetter, a brilliant musician who is currently delusional. Living in a cave in Central Park, believing a man on the top the Chrysler Building is plotting against him. Romulus doesn't have it easy. Things are made worse once Romulus discovers a frozen body in his tree, outside his cave one morning. While the police, which includes his daughter, Lulu, pass the body off as an unfortunate homeless victim of weather, Romulus suspects foul play and some interesting connections get him access to the art/photography scene, where he can do some investigating of his own. And if Romulus can just keep it together long enough, he may stumble upon what actually happened. The character of Romulus is the most important factor in this film. Jackson has to appropriately balance the antics of a delusional person, making him both sympathetic and believable to an extent. While Jackson is completely solid in the role, I would have liked it a little more if there was the possibility that Romulus could be wrong about the whole thing. The story of the film is interesting, but it drags a bit and the overall arc isn't entirely original. However, with such a peculiar lead role, it does stay fresh enough. Romulus Ledbetter: I have flocks of angels in my head and that'll beat you down with their wings!
Aaron Neuwirth
Super Reviewer
I very much like the idea of this film, it plays on a different perspective and shows graphically the thoughts of SLJ's character through the way he sees it. I don?t, however, think the storyline was adequate enough to suit the plot. SLJ acted ok at times and at others perhaps a little over the top. Nothing special and a bit of an anti climax.
Lady D'arbanville
Super Reviewer
The Caveman's Valentine Quotes