Cecil B. Demented
(2000)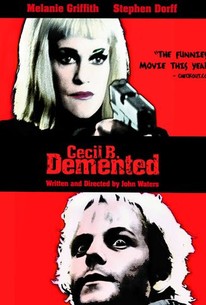 TOMATOMETER
AUDIENCE SCORE
Critic Consensus: The idea behind John Waters' latest has much potential, but the movie ends up being too sloppy and underdeveloped in terms of script and direction. Also, by today's standards, it fails to shock.
Movie Info
Cecil B. DeMented goes behind the scenes with a group of obsessed cinema terrorists whose goal in life is to avenge the crass sins of commercial movie culture through acts of brazen filmmaking and vigilante outlaw cinema retribution. As the movie begins, the title character and his "Sprocket Holes" gang kidnap Honey Whitlock, a beloved Hollywood movie star visiting Baltimore for the premiere of her latest blockbuster. Once Whitlock is their prisoner, DeMented and his horny, tattooed crew immediately go into production on Raving Beauty, the ultimate underground movie in which Whitlock is forced to play the insane owner of a failed art theatre. Armed with lights, cameras, heavy artillery and courage to burn, DeMented and his guerrilla production team wreak havoc on the Baltimore film scene, hitting targets from the Maryland Film Commission to penetrating the high-security set of a major big-budget sequel.
Critic Reviews for Cecil B. Demented
Audience Reviews for Cecil B. Demented
½
At first, it seems like John Waters wants to make an audacious hate letter to mainstream cinema with some nice moments of brilliance, but then you realize his "revolutionaries" are a bunch of freaking tards and the film gets too over-the-top and all over the place to have a point.
Carlos Magalhães
Super Reviewer
½
De-ment-ed For-ev-er!!! I have no clue why people think this is not as good as Waters' other work. So vastly under-rated, waaaay better than Sunset Boulevard or Day of the Locust when it comes to a movie about movies.
_kelly .King
Super Reviewer
Cecil B. Demented Quotes
There are no approved quotes yet for this movie.