Celia (Celia: Child of Terror)
(1989)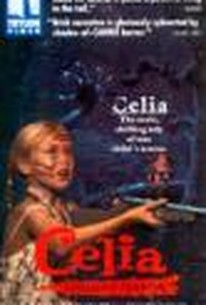 AUDIENCE SCORE
Critic Consensus: No consensus yet.
Movie Info
Ann Turner wrote and directed this genuinely creepy amalgam of Father Knows Best and Death Wish. Celia Carmichael (Rebecca Smart) is a lonely nine-year-old girl growing up in the Melbourne suburbs in the late 1950s, who is the victim of several traumas with horrific results. She first finds her grandmother's dead body. Then she has nightmares from a book read to her at school. For a spell, her troubles are abated when a new family moves in next door with three children for Celia to play with. But her parents forbid her to play with the children because the parents are members of the Communist Party. It all comes to a head when, because of a national plague of rabbits, the Victoria State government orders a turning over of all domestic rabbits. When her uncle confiscates her beloved pet rabbit and discovers that it has died in the Melbourne Zoo, Celia explodes in violent revenge. ~ Paul Brenner, Rovi
Critic Reviews for Celia (Celia: Child of Terror)
Audience Reviews for Celia (Celia: Child of Terror)
Fuck me, this was an intense, brilliant and perceptive film about childhood, and the end of childhood. Rebecca Smart's performance as the titular Celia is one of the finest child performances I have ever seen; natural, effortless. Set brilliantly in 50's Australia, with fear of communism at its peak, Celia gets conflicting information from adults around her, her parents telling her she will understand when she is older. Her Grandma, dead at the beginning of the film, was presumably more sensible in her approach and her absence is felt throughout. Celia's parents themselves (especially the father) are mostly clueless, cruel, ignorant, arrogant - so instead she finds direction from her new neighbour's - finally finding a solid mother figure and children she can play with (Celia is the victim of some horrific bullying elsewhere). Celia is a heartbreaking but funny and above all TRUTHFUL film that sits alongside the likes of Stand By Me and Heavenly Creatures (but unlike the former, doesn't ever break into nostalgia or sentimentality - it's a harsh film). Worth seeking out (the UK DVD is widely available and has an excellent contextualising essay in the booklet). If you don't bawl your eyes out then I do not want to know you.
Daniel Parsons
Super Reviewer
Celia (Celia: Child of Terror) Quotes
There are no approved quotes yet for this movie.