Cemetery Junction
(2010)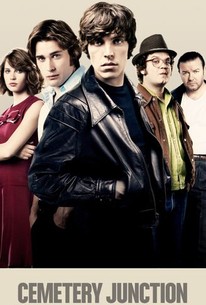 TOMATOMETER
AUDIENCE SCORE
Critic Consensus: It fails to challenge the well-established conventions of its storyline, but Cemetery Junction benefits from the genuine warmth of its script, as well as its refusal to give in to cheap nostalgia.
Movie Info
Playing out against the glamorous backdrop of Reading, England, during the 1970s, Cemetery Junction (a nod to the stretch of road of the same name) focuses on a small group of colorful characters who work for an insurance company. Written, directed, and produced by Ricky Gervais and Stephen Merchant, the film marks the duo's first collaboration for the big screen and features a cast that includes the likes of Ralph Fiennes, Emily Watson, and Gervais himself.
Critic Reviews for Cemetery Junction
Audience Reviews for Cemetery Junction
½
A group of friends tired of their suffocating existence in a working class suburb in the 1970s look for ways to escape to a better life. Cemetery Junction is very much a nostalgic trip back in time to a period when an aspirational working class looked to escape their roots, only to be restricted by their own lack of exposure to a world they had no experience of. It's strange to think how over a few short years the internet has transformed the world in this way; the working classes of the 70s were mired in "I expect my dinner on the table" sexism and racism born of ignorance rather than malice simply because they knew no better. Christian Cooke's central character represents the hopes and dreams of a young man wanting more than a life spent at a soul destroying factory job but soon realises that a life at a soul destroying office job doesn't seem much more appealing despite the carrot of the trappings of the upper middle class. The support provided by a very charismatic and chiselled Tom Hughes seems like the first steps of a future star and Gervais' hilariously ignorant 70s family provide some very funny moments. Very much in the same vein as the sitcoms of Clement and Frenais, it may stick to a well worn formula of feelgood romanticism but it has enough in the way of well observed comedy and likeable characters to make you enjoy the journey. Shane Meadows lite.
Not bad, story set in the 70's about a group of friends and their lives. Nothing you won't have seen before, and I have seen the whole 70's setting done to better effect, but it's an undemanding movie with a few laughs and a few sweet moments in it too. Nice to watch on a dull weekend.
Nicki Marie
Super Reviewer
½
Captures only a part of the 70s in England, but captures it well, unfortunately it aims it at a large audience so probably has bad reviews. I cant believe the soundtrack, cus I hate most those songs, but together they worked well for an OST.
Alexander Wilson
Super Reviewer
Cemetery Junction Quotes
| | |
| --- | --- |
| Julie: | There's this ancient Arab proverb, it says... |
| Freddie: | Woah, 'there's this ancient Arab proverb'? You've changed. |
| Julie: | Listen! It's sweet. It says: throw your heart out in front of you, and run ahead to catch it...whatever you desire, imagine it's in front of you, and grab it. |