Dellamorte Dellamore (Cemetery Man) (Demons '95) (Of Death, of Love)
(1996)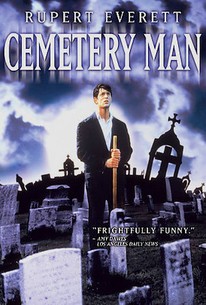 Dellamorte Dellamore (Cemetery Man) (Demons '95) (Of Death, of Love) Photos
Movie Info
Achingly romantic and creepy-funny, this funereal fantasy from the director of La Chiesa (1989) is unlike any Italian film in memory. Rupert Everett plays Francesco Dellamorte, a lonely cemetery caretaker who just wants to get out of his small town of Buffalora. His assistant and sole companion, Gnaghi (played by famed French musician Francois Hadji-Lazaro) is an overweight cretin who speaks only in grunts, and the dead people outside are rising from their graves as zombies and trying to have him for breakfast. This situation, coupled with all his other problems, gives Francesco a real complex. His troubles are compounded when he meets a series of mysterious women (all played by the beautiful Anna Falchi) whom he loves before they die tragically. Soavi's film is based on a graphic-novel, Dylan Dog by Tiziano Sclavi, but Soavi's more obvious influences range from Jean Rollin's La Rose de Fer (1973) to Tim Burton's Edward Scissorhands (1990). Barbara Cupisti (of Soavi's Deliria) has a small role, and the film also benefits from Manuel de Sica's memorable score and excellent pacing by editor Franco Fraticelli. This is a film to savor and it will go down as one of the most striking Italian genre efforts of the decade, despite some weak effects work by the normally reliable Sergio Stivaletti. ~ Robert Firsching, Rovi
Critic Reviews for Dellamorte Dellamore (Cemetery Man) (Demons '95) (Of Death, of Love)
Audience Reviews for Dellamorte Dellamore (Cemetery Man) (Demons '95) (Of Death, of Love)
Cemetery Man is a fine comedy horror film that is effectively directed by horror master Michele Soavi, who has made his mark in Italian horror by directing La Chiesa (The Church). Soavi crafts yet another memorable horror film that is a very entertaining and is sure to delight zombie film fans. The film has everything that you'd expect from Italian horror films is here, and the film, though not perfect is a must see for genre fans. The film has enough gore and effective genre elements to keep you interested and delivers something amusing on-screen. Cemetery Man is good for what it is, but it is not the best effort from director Soavi, who has made far better pictures in the 80's. As a whole, take this film as a mindless picture that will manages to overcome its imperfections by giving zombie fans plenty of undead carnage on-screen. The plot may be at times lacking, but with a film like this, the zombies are all that matters and Michel Soavi direction gives viewers plenty to enjoy despite its flaws. Cemetery Man is not the greatest of Italian zombie pictures, but it definitely isn't the worst. This film was deemed to be a Comedy horror film; the comedic tone of the film is flat and virtually nonexistent and the film's material has a much darker tone in retrospect. I enjoyed the film, but like I said, Soavi made far better films, but overall this is an underrated film that deserves to be revisited by genre fans. The film is bizarre enough to make it a worthwhile viewing experience. Cemetery Man is a unique zombie offering, one that is sure to delight fans who are looking for good gore and zombie mayhem.
Groundskeeper Francesco Dellamorte works at an Italian cemetery where the major part of his duties is to shoot zombies in the head as they rise from the grave; the normalcy of his daily routine is wrecked when he falls in love with a beautiful widow, sees a vision of death, and has to cope with his mute assistant's romance with an underage severed head. It's a lazy cliche to describe a surreal movie as "it's [insert name of familiar movie] on acid," but I'll do it anyway: DELLAMORTE DELLAMORE is DAWN OF THE DEAD on acid.
"I'd give my life to be dead." Cemetery Man is definitely the weirdest "zombie movie" I've ever seen. Whether that's a good thing or not depends solely on the individual viewer. A cemetery caretaker and his big, mono-syllabic assistant watch over a graveyard where some of the dead have a habit of crawling out of their caskets seven days after they die and attempting to munch on the living. A beautiful widow (seriously, Anna Falchi is stunning in this and fortunately you get to see a lot of her) interrupts the duo's nightly routine of headshots and re-burial, and things quickly get even weirder. Cemetery Man is campy at times, there's lots of old school gore, black humor, murder sprees, a supernatural reoccurring love story, odd characters and shifts in tone (the first half is VERY different from the latter half). Imagine an Italian Army of Darkness meets David Lynch and penis injections (you'll have to see it to understand). Actually, "you'll have to see it to understand" is the best review I can give this movie.
Dellamorte Dellamore (Cemetery Man) (Demons '95) (Of Death, of Love) Quotes
There are no approved quotes yet for this movie.