The Center of the World
(2001)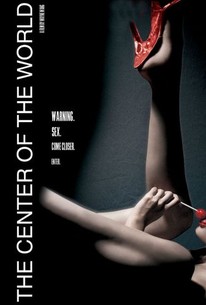 The Center of the World Photos
Movie Info
The probability of sex and the possibility of love between twenty-somethings -- a lonely man and a fiercely independent and emotionally unavailable woman -- is at the core of the Center of the World. Peter Sarsgaard plays Richard, a successful computer engineer who knows nothing quite as intimately as his hardware and software. Florence (Molly Parker) is a struggling rock drummer who makes her living as a stripper and is the object of his desire, though she couldn't have more walls and bridges erected to keep potential partners away. Richard makes her an offer she can't refuse, and the two spend a sex-filled weekend together in Las Vegas on Richard's dime. The resulting humiliation, hurt, ecstasy, and brief connection conspire to confuse the situation. Neither Richard nor Flo seems capable of bonding with another person, both feeling more comfortable in isolation. The digital video medium captures the intimacy (or lack of it) and immediacy of the fast-paced arrangements and exchanges, set against the backdrop of a thriving dot-com age that mirrors the characters' similarly chaotic emotional worlds.
Critic Reviews for The Center of the World
Audience Reviews for The Center of the World
A rich computer nerd brings a stripper to Vegas and tries to get her to fall in love with him. I'm surprised by this film's weak story and slowly moving plot. At the helm is Wayne Wang, and among the film's four writers are Paul Auster and Miranda July. These are all strong talents; perhaps there were too many cooks in the kitchen. What's troubling about the film is that we get such a concentration on character, but none of the real questions are answered. Why does Richard become so obsessive? Why does Florence break the rules? Where is the line between sexual obsession and love for these characters, and how do they determine it? These aren't minor issues; rather, they're at the heart of whatever the hell the film is saying. Additionally, Jerri wanders into the story on her way to another film. Overall, despite the wealth of talent that went into the film, it's unfortunate that the result is not a sum of its parts.
Jim Hunter
Super Reviewer
½
Wayne Wang's "The Center of the World" is a real, painful story about two lost souls. A guy who is a wealthy in the dot com era and a female stripper.(they're really called business women because they never mix real emotional love with work, same applies for webcam ladies, the product is their bodies. Take it or leave it) They go to Vegas for three days together where the female has listed certain rules to the deal. No intercourse, sexual contact between 10pm to 2am, no touching, etc...etc The man is fine by that but how long will those rules last until? They sort of try to get to know each other and she can see that he isn't a creep, when 10pm hits she transforms into an erotic attractive woman. TCOTW is not pornography, sex isn;t even the main subject but it's about the deal and of course cash. They are both the same, no one is greater then the other, at first I started to resent the female because she managed to get the upper hand but did we not forget the wealthy guy? he still manages to make money while he leaves his investors in the wind, and what about a third party who enters the scene? She happens to be the stripper's girlfriend and shows up at their hotel beaten to a pulp.(she explains what happend but im too lazy to give details) At first I started to cringe because surely this felt like a setup while somehow the third girl was gonna run away with his money(he gives her the money anyway out of curtesy)ugh...I don't know sure seems like it, either that or the beat up chick is a very good actress. Their is a lot of suspence in this film and I was desperately waiting for the two to drop the deal and start to really like each other, when the suspense ended I manage to escape the headlock. The ending fits so well as to believe did these two business souls meet again? or was this the past? Molly Parker, Peter Sarsgaard, Carla Gugino turn in strong performances.
Depressing as hell and rather self-contained, The Center of the World is a dull, dreary story, shot on the cheap with an ugly, hyper-real aesthetic but a somewhat unbelievable starting point. Richard, a successful but socially inadequate computer engineer, meets Molly, a drummer in an aspiring rock group, iand decides to talk to her. Molly (very) soon tells him that for money, she works in a strip club, and one night he goes there to meet her and gets a lap dance. Apparently under pressure from his friends to 'get laid' (well, there's one scene anyway), he offers Molly a substantial amount of money if she spends a three-day weekend with him in Las Vegas. Of course, eventually she agrees, though inevitably there are conditions: she's only 'his' from 10 PM until 2 AM, there's no kissing on the mouth, and definitely no penetration. Guess what happens? The bleak ending is a bit disrespectful to one of the characters, but is certainly powerful, and the strong sex scenes are far more effective than say, those in 9 Songs.
Though there's really no new ground covered here, writer Ellen Benjamin Wong and director Wayn Wang clearly have good intentions, and what elevates this into watchable, sometimes perceptive territory is the stunning lead performance from Peter Sarsgaard (and to a lesser extent, the performance by Molly Parker). Whenever films are shot on hand-held camcorders/home-video equipment, something about the way it looks highlights that people are acting. It all looks too 'fake' and static, mannerisms become exaggerated and it becomes quickly obvious that the whole thing is, well, fictitious. But Sarsgaard is never anything less than utterly believable; he is supernaturally talented here - there's no artifice, and though the entire film is really quite underwritten, his is the only character here who feels like he has lived before the film starts and will continue to live after it is over.
Daniel Parsons
Super Reviewer
The Center of the World Quotes
There are no approved quotes yet for this movie.